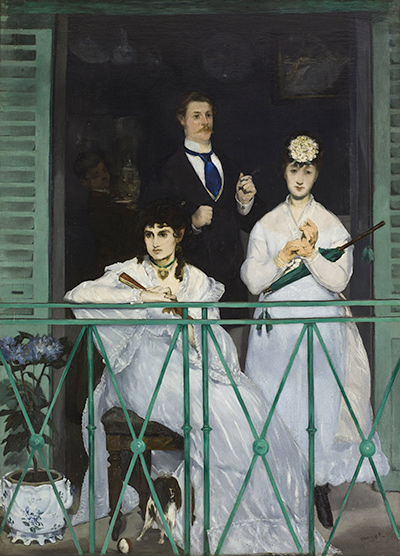 Buy Art Prints Now
from Amazon
* As an Amazon Associate, and partner with Google Adsense and Ezoic, I earn from qualifying purchases.
The Balcony, or Le Balcon to use its French name, is an oil painting in Manet's unique 'eccentric realism' style. Frowned upon by critics of the day, it is now regarded as one of his greatest works.
The painting depicts four figures standing together on a balcony as seen from outside the house and was inspired by Goya's The Majas at the Balcony, Goya being a favourite artist of Manet and a particular inspiration on much his work throughout his career. Those figures were all friends of Manet's who agreed to pose for this painting as was customary at the time. One the left sits Berthe Morisot, a young lady who would go on to feature in many of Manet's paintings, here appearing for the first time in his work.
She went on to marry his brother Eugene some years later. In the centre stands the landscape painter Jean Baptist Antoine Guillemot, and next to him the concert violinist Fanny Clause, a close friend of Manet's wife Suzanne. In the background a fourth figure is seen, partially obscured. This fourth figure is believed to be Manet's son Leon, a common subject of his work. The figures appear frozen in a moment with an expression something like indifference showing on their faces and no interaction between them observable. This is strikingly unusual for paintings of this type and period. Typically, this type of work would usually be expected to tell a story. The lack of narrative in this case was cause for critical disdain for the work and for Manet himself.
Manet was no stranger to critics though. He was, by this time, beginning to build a reputation as something of an eccentric with paintings that went against the customary realism and traditionally modest colours usually seem in such paintings. His subjects and colour choices were seen as highly vulgar and a mockery to the tasteful, pleasant paintings produced by his contemporaries. The colours used in this work are certainly striking. The bright green of the balcony juxtaposed against the black background and the white of the ladies' dresses is a bold choice, and he would have known that he was breaking convention with this stylistic choice. Art critics would have found the colours garish and extremely inappropriate. Manet enjoyed rebelling against tradition with his work and pushing boundaries as far as he could to create interesting and thought provoking pieces. Although he wasn't appreciated at the time, he is regarded as a great master now and hugely admired for his unique style.
A small dog with a ball appears on the balcony, along with a hydrangea flower. Both of these subjects are painted with great care, indeed they appear to be more detailed than the faces of the primary figures. This too was frowned upon by the critics who felt it disgraceful that he should have obscured the faces of his models in this manner and yet paid so much attention to seemingly meaningless aspects of the work. To those who viewed it, it would have seemed hugely disrespectful to the people portrayed in the painting. Manet's friends were well acquainted with his work and had no particular problem with the depiction, but despite this it would have been shocking to a casual viewer.
Additionally, the figure of his son in the background as well as much of the detail from inside the room is missing. We can appreciate now that this was to focus more attention on the balcony scene, but it did not conform to traditional ideals of realism in art and therefore was not appreciated by his contemporaries or his critics. Nowadays, however, we know that Manet was deliberately working against all conventions of the day, pushing back against what he was expected to create in order to make something truly unique and ground breaking.
Like much of his later work, the image appears to be flattened, as though restricted by the shape of the canvas itself. This came to be a recognisable signature of Manet's work and an interesting technique he utilised in creating unusual pieces of art. The Balcony in particular is interesting as it shows Manet becoming more aware of his own distinctive style. He is beginning to experiment with different ideas that would go on to be his signature style and create works which are unique to his way of thinking, as well as being a fascinating look at the way in which he completely disregarded the critics and social norms of the day in pursuit of creating something truly unique and inspiring. Other highlights from this artist's career included A Bar at the Folies Bergeres, Le Dejeuner Sur L'Herbe and Absinthe Drinker.