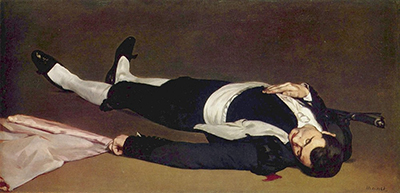 Buy Art Prints Now
from Amazon
* As an Amazon Associate, and partner with Google Adsense and Ezoic, I earn from qualifying purchases.
The Dead Toreador painted in 1864, was originally part of a much larger work, Incident in the Bull Ring.
This was cut in two, by the artist, following criticism that the painting was out of proportion; the size of the bull in comparison to the bullfighter was particularly criticized.
This practice was not uncommon for Manet, who was known to have cut up and repainted a number of his works.
The separation of Incident in the Bull Ring resulted in two smaller, but more intense, works. The top half became known as The Bullfight while the bottom half became The Dead Toreador.
The painting depicts the fallen bullfighter, lying prone on the floor, his body pointing towards the viewer. He is dressed in black, aside for his white stockings and sash. In his left hand, he holds his white cape.
The figure of the Toreador looks extremely realistic, from the pale face, below jet black hair, to the silk stockings and shining shoes. The artist captures every small detail, with clever use of light and colour.
Manet removed any images of the bullfight from the painting; the background is dark and plain. This serves to highlight the body of the toreador. Without the distraction of any other images, the viewer's eyes are drawn to the figure of the bullfighter.
The painting is thought to be inspired by a work titled "A Dead Soldier," painted by the 17th-century Spanish artist Diego Velazquez. The soldier' body lies in the same position, and at the same angle as Manet's toreador. In addition, the colouring of both paintings is very similar.
Velazquez was a great source of inspiration throughout Manet's career. He is quoted as calling him the "painter of painters."
Despite these similarities, "The Dead Toreador" is a great work, in its own right. With this painting, Manet created a highly realistic and enduring image.