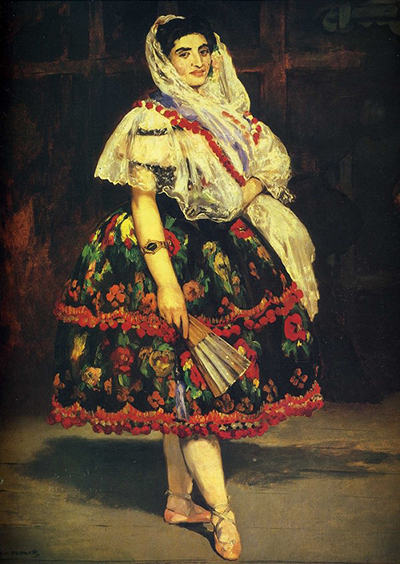 Buy Art Prints Now
from Amazon
* As an Amazon Associate, and partner with Google Adsense and Ezoic, I earn from qualifying purchases.
Lola de Valencia is an iconic painting by the incredibly talented painter Edouard Manet. The painting whose title translates to Lola from Valencia was created in 1862. It depicts a lady dancer wearing contemporary Spanish clothes.
Edouard drew this portrait to commemorate Lola Melea who was a famous Spanish singer and dancer. The portrait reveals the dancer to be in a stage setting of sorts. Edouard seems to have emphasized the lady's appearance by bringing out the tiniest of details with different shades of red and orange. Lola's ruffled skirt appears to have flowery markings of bright red and orange with green and yellow complimentary patterns. On her upper body, the Spanish dancer spots a flowing mantilla with a red ribbon and veil trims. Edouard also inserts more details such her short dark silhouette which contrasts with the gray background.
Unlike his predecessors, Edouard Manet seems adopted a realistic painting style with this portrait. The painters before him dwelled on historical and mythological characters with various deformations. Lola De Valence, on the other hand, features a realist style which in essence is a detailed sketch populated with vibrant colors. In most of his works, Edouard is known to love the black color. He applies it at the background of this masterpiece painting to focus the attention of the observer on Lola's character.
Lola De Valence painting was created during Edouard's Hispanic period. Other pieces of art created around Hispanic period include The Spanish Singer of 1860, Mademoiselle V of 1862, The Bullfighting series of 1864 and The Dead Man of 1865. At this stage of his career, he was heavily inspired by Spanish works of art as well as Diego Velazquez who was also a remarkable painter and his mentor. Lola De Valence is among the artist's original works which were flagged down by critics claiming that its theme portrayed eroticism. This marked the beginning of several other controversies regarding his paintings of a similar genre such as Luncheon on the Grass and Olympia.
Though Lola De Valence portrait might have received intense criticism from some viewers, it was cemented on the hearts of a few fans at that time. Baudelaire, for instance, was so moved by the painting that he wrote a quatrain about it. It was his wish that Edouard would engrave the words of his quatrain either on the bottom of the portrait or the frame in black color. The cartouche where he had chronicled his short poem was framed. Later it was discovered that the quatrain had been preserved on a cartel and not on the portrait frame as Baudelaire had wished.