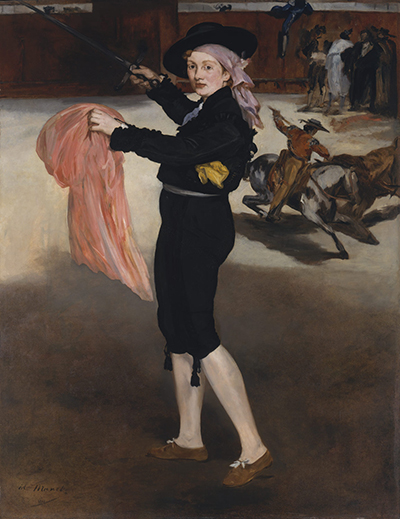 Buy Art Prints Now
from Amazon
* As an Amazon Associate, and partner with Google Adsense and Ezoic, I earn from qualifying purchases.
Édouard Manet prepared for his etching of Mademoiselle Victorine in the Costume of a Matador, originally an oil painting, by producing a water colour.
Visible lines that cut into the tracing sheet show exactly how he transferred the image to the etching plate. In contrast to the methods employed by many late nineteenth-century Parisian printmakers, who worked onto copper plates, Manet used the picture as a midway attempt in pen, ink, graphite and paint, to re-interpret the original canvas. It's possible that the drawing was traced from a photo of the painting, but in any case, the artist's signature in the bottom lefthand corner confirms that Manet saw it as a work of art in its own right.
The picture features Manet's favourite model, Victorine Meurent, dressed as a male espada or matador. The coloured versions reveal a pink cape, albeit the wrong shade for a bullfighter, and unsuitable shoes. Nevertheless, the androgynous figure performs with an authentic flourish in the manner of a Renaissance print - and then surprises by turning to confront the viewer. For the background, the painter steals a tableau from the Tauromaquia series of bullfighting exploits by Spanish artist Francisco de Goya. It was said during its display at the Salon des Refusés in 1863 that Manet loved Spain and especially Goya, and that he took on his striking colours and vibrant style, but it is also reminiscent of another Spanish favourite in Velazquez, and his canvas Las Meninas.
Victorine-Louise Meurent (also called Meurant) (1844-1927) came from an artisan family, and became a popular model in art circles in the French capital. However, she was also an accomplished and talented artist herself, and exhibited at the Paris Salon. In 1876 her paintings were shown at the Salon's juried exhibition, while Manet's were excluded, and her embrace of a more traditional style led the two to grow apart. Manet had first spotted her carrying her guitar, and as well as this instrument she played the violin, giving lessons in both and singing in café recitals. Her flaming red hair and compact frame, earning her the nickname of La Crevette (shrimp), ensured that she stood out.
In Manet's work she is best remembered as a player in the masterpieces Luncheon on the Grass and Olympia, among others, but at that time she was also modelling for Edgar Degas and the Belgian Alfred Stevens. In addition, she has been the central protagonist in two novels, and a character in others. This etching was a comparatively early work by the thirty-year-old Édouard Manet, executed in 1862, but it encouraged visitors to look at art in a new way - appropriate for an artist who was associated with the Impressionists, and who paved the way for modernism.