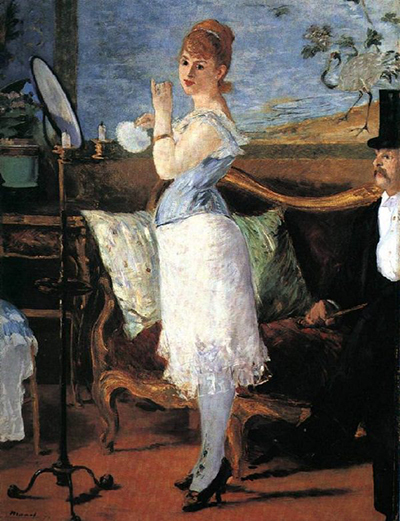 Buy Art Prints Now
from Amazon
* As an Amazon Associate, and partner with Google Adsense and Ezoic, I earn from qualifying purchases.
Nana is one of Manet's later works, painted in 1877. It is an oil painting, created in typical Manet style, quickly and directly, in one sitting.
It depicts a young woman standing in front of a mirror, applying makeup. However, she is not looking in the mirror; instead, her face is turned towards the viewer. She is wearing undergarments, stockings, and high-heeled shoes. Behind the woman sits a gentleman, on a settee, staring at her. He is smartly dressed, with a top hat and cane. Judging by the other furnishings in the room, and the décor, they are in the woman's boudoir.
The painting implies that she is a prostitute, albeit a high class one, and the man is her client. This is supported by the title of the work, Nana being a popular name for prostitutes in the 19th century. On its completion, Manet wished to exhibit the painting at the Salon of Paris. However, the subject matter was regarded as too controversial, and it was rejected. Despite its obvious artistic merit, 19th century France was not ready for a painting in which a prostitute was the main subject.
It has been suggested that the painting was inspired by a character in the book, "L'assommoir," written by a French author Emile Zola, whose novels explored the lives of the Parisian working class in the 19th century. When the picture was completed, Zola expressed her admiration for the work and used "Nana" as the title for a novel she wrote three years later. While often criticized during his lifetime, he is now seen as hugely influential; as a result, his work is very popular with collectors. One of his most famous works, "Le Printemps," sold for more than $65 million in 2014. Manet was one of the first artists to use modern life as material for his work, as opposed to the historical subject matter favoured by many of his contemporaries.