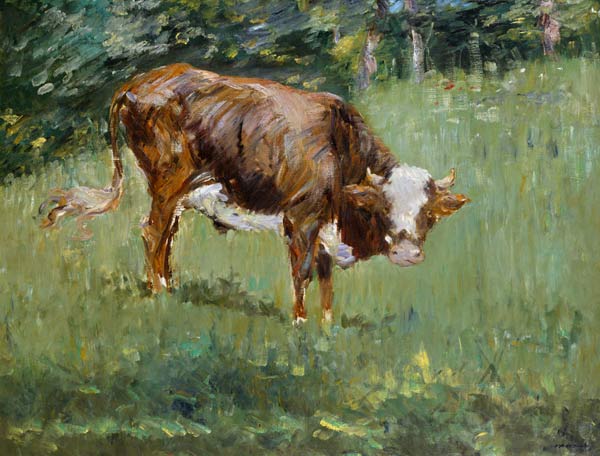 Buy Art Prints Now
from Amazon
* As an Amazon Associate, and partner with Google Adsense and Ezoic, I earn from qualifying purchases.
Young Bull in a Meadow was painted by Edouard Manet, as an oil on canvas piece in 1881.
A contemporary and peer of the impressionist artist Claude Monet, Manet also painted in the impressionist style and this is evident in this particular painting where the brush strokes add visible texture. Young Bull in a Meadow is a specialty precisely because Manet painted it in this style. This is because he did not create only impressionist paintings. Although Manet believed that he had 'done it first', which lead to his accusing Monet of imitating his style, Manet was also part of the Realist movement, and he painted both animal and human portraits in the Realist style. (Manet and Monet eventually got over their misunderstanding, when it was established that Monet was not imitating him, and they became close friends.)
Although Manet lived a rich and fascinating life, it is not necessary to be a scholar in order to appreciate Young Bull in a Meadow. The painting stands alone as a simple and self explanatory piece. It does indeed present a bull in a meadow with no other animals or surrounding figures. It is a portrait of a bull at home. Though docile, this brown and white bull clearly has character and vitality. He is looking directly ahead, as if at viewers of the painting, and his tail is clearly in motion.
Behind the bull, the greenery rises up, and there appears to be a forest of some sort. Not only does this provide depth to Manet's painting, but it also has the effect of bringing the bull into the foreground. Not only is he moving, but he appears to be, almost, jumping out of the painting and into the "real" world. The impressionist style of the painting also gives movement to the vegetation surrounding the young bull. The colour of the grass on which the bull stands has been painted in dark green and yellow hues, and there are also streaks of purple toward the back of the painting, suggesting a vibrant summer scene where the flowers, and nature as a whole, are in full bloom.
Manet has truly ensured that vivacity and energy are the subjects of his painting, and therefore it seems only logical that the animal portrayed is a passionate and lively one, such as the young bull. As with all of his paintings, it is as if Manet has truly captured the living subject's essence as well as its appearance. This beautiful piece, by virtue of both its initial simplicity, and its actual complexity, clearly shows off Manet's artistic genius.