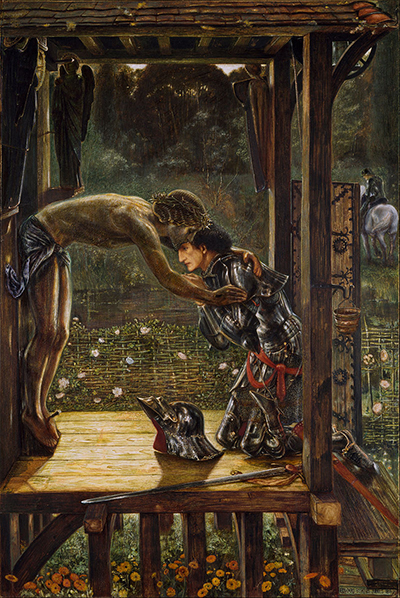 Buy Art Prints Now
from Amazon
* As an Amazon Associate, and partner with Google Adsense and Ezoic, I earn from qualifying purchases.
The Merciful Knight by Sir Edward Burne-Jones is thought by many to be the most significant of his early works, with his wife Georgiana considering that it summed up the ten years since he first went to Oxford. Perhaps that's why it was his favourite, with its more personal style indicating a new technique in design and expression.
The Merciful Knight was the Florentine St John Gualberto, who founded the Valombrosan Order in 1039. Legend has it that after agreeing to forgive the murderer of his relative, he was embraced by a wooden Christ-figure leaning down from a cross. The painting's inscription emphasises how the act of forgiving his enemy, instead of killing him, earned the approval of Christ and therefore the love of God. The fact that this was a little-known story, although Gualberto was canonised, only increased its mystical and romantic power. In first sketches, Christ's kiss is more passionate, with homoerotic hints, but the final 1863 painting in gouache on paper simply suggests compassion, with Christ's beard shielding the knight's mournful face.
The wounds in the hands of the crucified figure serve to emphasise the vulnerable hands of the kneeling knight, who has his armoured gauntlets attached to his waist. The marigolds at the front were taken from the gardens at the centre of Russell Square in London, which Burne-Jones would have passed frequently from his home opposite the British Museum. Edward Burne-Jones became interested in chivalry when he was working on the Oxford Union Arthurian murals in the same year, and tales of knights fascinated him for the rest of his life. In 1894, he attempted to borrow The Merciful Knight, with a view to producing a bigger oil painting from it, and was in the middle of a painting with an Arthurian theme, The Last Sleep of Arthur in Avalon, before his death in 1898.
While at Oxford University, the artist became friendly with William Morris. Both were interested in writers and poets such as Ruskin and Tennyson, churches, and the Middle Ages, and after meeting Dante Gabriel Rossetti, they embraced art as a career. William Holman Hunt, John Everett Millais and Rossetti had already founded the Pre-Raphaelite movement, which the two younger men now joined. Burne-Jones, probably the best-known member of the group today, went on to influence the French symbolist painters and the Birmingham Group, and inspired Swinburne's Poem's and Ballads. The Merciful Knight is now appropriately owned by the Museum and Art Gallery in Birmingham, the artist's birthplace.