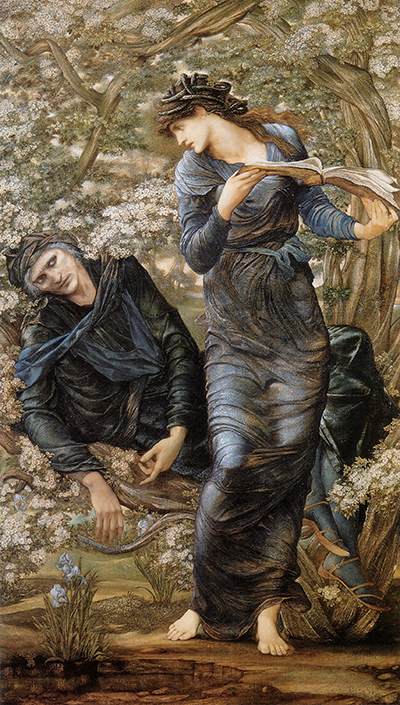 Buy Art Prints Now
from Amazon
* As an Amazon Associate, and partner with Google Adsense and Ezoic, I earn from qualifying purchases.
Edward Burne-Jones' paintings were precise, detailed compositions. He disliked the impressionists and their improvised style, prefering his own deep forethought and solid attention to detail.
This was an artist who treated his work as a craft rather than a profession. His integrity could never be questioned, though sometimes this could be seen as obsessive and controlling, such as in the way he was particularly precise over how exhibitions could and should display his work. In truth, he was far more comfortable when amongst the environment that he knew best, namely his studio. His view of his career as crafting designs rather than delivering professional art could also be seen in the techniques that he used in each of the different mediums in which he was involved.
In terms of painting, Edward Burne-Jones would make use of watercolour, gouache and oil. His involvement in other mediums such as tapestry, illustration and jewellery would also influence his paintings, and vice versa. The best example of this in action would be the countless numbers of his paintings which featured draped backgrounds or floral patterns that come directly from his work in embroidered tapestries. He desired to promote the traditional crafts and applied arts as equal to fine art, and would often combine the two. He would team up with William Morris who shared his ambitions and artistic qualities.
Burne-Jones was not without his critics, both during his career and afterwards. Ruskin labelled him as a weak, female artist, whilst still acknowledging his undoubted technical talents. Others refered to him as a painter of patterns, essentially a decorator. It is not uncommon for even the great artists to receive criticism during their careers, particularly when their style is groundbreaking. In more recent years it is fair to say that artist Burne-Jones has been better received and has finally received the position that his work deserves within the realms of 19th century art history. Art for art's sake is no-longer used as quite the same derogatory term that it once was.
The artist is most likely to have begun as a watercolour painter initially, before then achieving great success with oils. Such is the prominence of the latter within art history, and its popularity with the public, that most followers of his career with always start with a focus on his oil paintings. Even beyond the watercolours, there are still his drawings, embroidery, jewellery and stained-glass window designs. Few have been successful in such a wide variety of mediums as Edward Burne-Jones. Whatever materials he used, he always placed quality at the forefront of his decision making as an artist, and never potential financial gain from the work he was producing. He was an artist's artist, if you like, as well as someone who believed whole heartedly in the concept of art for art's sake - something we all take for granted today.