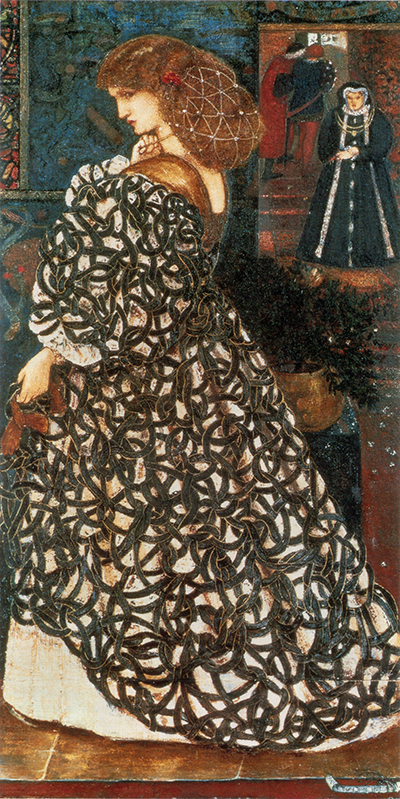 Buy Art Prints Now
from Amazon
* As an Amazon Associate, and partner with Google Adsense and Ezoic, I earn from qualifying purchases.
Sidonia von Bork is a painting by Sir Edward Coley Burne-Jones. It features a striking female in 16th-century attire, a fictional noblewoman by the name of Sidonia von Bork. She is the main character in a Gothic novel, 'Sidonia the Sorceress' by Wilhelm Meinhold. The main character is ultimately executed for witchcraft.
The scene in the painting shows Sidonia von Bork at the Dowager Duchess of Wolgast's court. The details of the figure's appearance are derived from the character's description in the novel. The details of the dress, however, are based on a painting of a noblewoman by the name of Isabella d'Este. That portrait was painted by Giulio Romano, a Renaissance painter. The impression given by the painting is one of drama and intrigue. It piques the curiosity at first glance. This painting is created from watercolours and gouache on paper. It draws all eyes towards it like a magnet. This is one of the earliest watercolour works painted by Sir Edward Coley Burne-Jones. It is actually one of a trio of paintings.
The painter, Sir Edward Coley Burne-Jones, was an English artist who lived in the 19th century. He was the quintessential figure of a nobleman who indulged in and totally enjoyed the arts. His contribution to the art of the 19th century resulted in an impressive body of work. Much of it continues to impress today. He expressed his artistic talents through various media. He was part of the well-known 19th-century art movement which came to be known as the pre-Raphaelite movement.
Sir Edward Coley Burne-Jones was known for his work in stained glass art and much of his work is seen in historic churches. He worked in crafts. He enjoyed designing items like ceramic tiles, jewellery, tapestries and mosaics. However, he was also an enthusiastic painter. He worked mainly in oils although he completed some impressive watercolour painting. His paintings are striking in appearance and their dramatic quality made him quite a leading light in the art world of his time. He was considered by many to be one of the stars of the aesthetic movement. Sir Edward Coley Burne-Jones was born in 1833 and died in 1898.