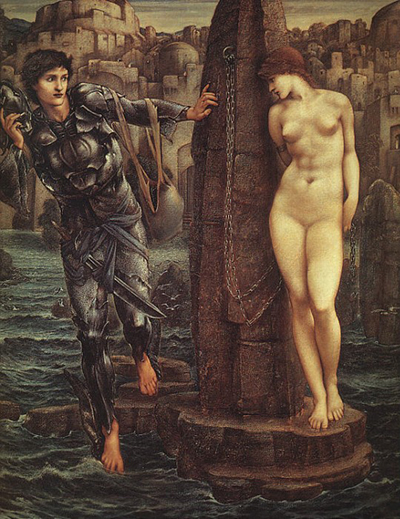 Buy Art Prints Now
from Amazon
* As an Amazon Associate, and partner with Google Adsense and Ezoic, I earn from qualifying purchases.
Edward Burne-Jones, a great contributor to Victorian art, is remembered for his excellent piece of art associated with Romanticism as well as symbolism. Edward began painting using watercolours and then later advanced into large-scale colourful oil painting. One of his greatest works is The Rock of Doom, which was painted between 1885 to 1888.
The Rock of Doom is among the painting featured in The Perseus Cycle, a series that showed the classic story of Perseus and the slaying of Medusa. The art features Perseus having killed Medusa and holding her head in his hand. Additionally, Perseus also encounters Andromeda outside the town of Joppa, where she was chained to a rock. At this point, Perseus's face is uncertain, and he has removed Hades' helmet so that he is visible to Andromeda. On the other hand, Andromeda's face is downcast, and she looks afraid and coy. An emotional culmination is evident at the discovery that Andromeda was left chained for a sea monster prey. Edward Burne-Jones has managed to capture that moment perfectly on this painting, to illustrate the terrified look on Andromeda's face.
The composition was completed first as gouache and then as an oil painting. Gouache is a technique that involves a high ratio of colour pigment and a solid white pigment. It is preferred because it has a lovely and velvety texture that absorbs light. Oil painting involves painting in oil colours, a medium that contains pigments suspended in drying oils. Oil painting enhances textured effects due to its thick consistency when making a painting. Additionally, oil painting is preferred for its flexibility and depth of colour. These two techniques have been used to create contrast in the complexion of the two characters in the art. Furthermore, the background is dark enough, and it does not reflect light, and this influences the mood of the painting.
Perseus's figure is armoured in a way that creates a dramatic contrast with the nude figure of Andromeda. More importantly, the painting shows smooth modelling, a common technique in Edward's works. The picture was done on canvas, which was ideal for oil painting and the gouache technique. The painting is located in Staatsgalerie, Stuttgart and is among the most valuable works by Edward. Edward's passion got nurtured by Dante Gabriel Rossetti, who practiced both painting and Arthurian poetry. Additionally, he also had a lifelong influence from William Morris, a Victorian socialist. Morris was a pioneer of the arts and crafts movement, and this deeply inspired Edward to pursue his passion.