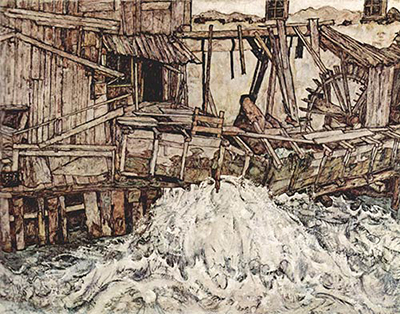 Buy Art Prints Now
from Amazon
* As an Amazon Associate, and partner with Google Adsense and Ezoic, I earn from qualifying purchases.
Even though many paintings were seized by the Nazis during the war, some of these being original works painted by Egon Schiele, the Old Mill was not one.
The Austrian Museum recently sold an Egon Schiele original to settle a families court claim in which they were ordered to pay 19 million for another of his originals which was seized by the Nazis during the war. The Old Mill Painting is oil on canvas and located in the Niedersächsisches Landmuseum in Hanover, Germany. The artists was 26 years old when he painted it in 1916. The Old Mill painting was most likely painted during the time of Egon Schiele's military conscription which took place four days after his marriage. Schiele produced several landscapes and cityscapes after becoming inspired during his wartime travels. These did not display any of the exaggerated contours, a trademark of his previous paintings.
Egon Schiele's use of frequently dark symbolism, somber palette and irregular contours played a huge part in the formulation of the character of early twentieth-century Expressionism. He astonished with his prolific production of works on canvas and paper despite his short life. The primary influence of Schiele's development as an artist was the painter, Gustav Klimt. He acted as Schiele's mentor and friend and it seems he shared his insatiable sexual appetite. Although Klimt preferred patterned surfaces that glimmered on a brilliant palette, Schiele's unsettling and emotionally intense Expressionist style directly opposed Klimts Art Nouveau-inspired style. Schiele did inherit Klimt's focus of erotic female images. Other Landscapes in Schiele's collection besides the Old Mill are House with Shingles, 1915, Stein an der Donau II, 1913, The Bridge (Die Brücke), 1913, Four Trees (Vier Bäume), 1917 and Die kleine Stadt II, 1912–1913. His landscapes displayed a more mature side of his painting which tended to manifest after marriage.
Alte Mühle, to use its original German title, is 140cm in width and 110cm in height, matching the expected dimensions that you would expect for a landscape painting. The piece is dated at 1916, meaning that it came towards the end of the artist's career, such was his premature passing as a result of contracting Spanish Flu just a few years later. This piece is believed to now be held at the State Gallery of Lower Austria, known as the Landesgalerie Niederösterreich, although most information that they provide on the piece is entirely in German. The gallery also offers some paintings from Oskar Kokoschka plus a number of much more contemporary artists. They also host regular exhibitions in which they will place some of their permanent collection alongside loaned in, related artworks from elsewhere.