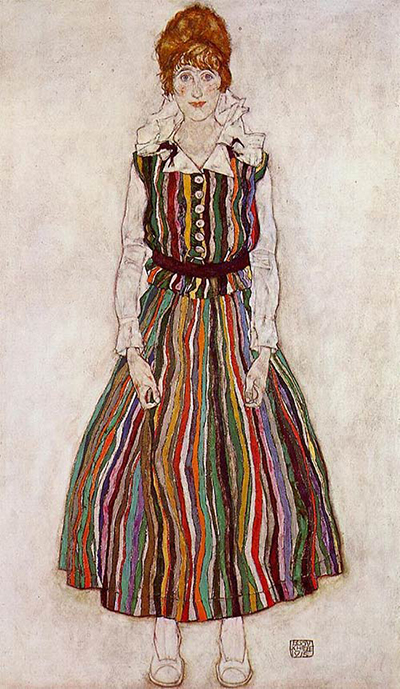 Buy Art Prints Now
from Amazon
* As an Amazon Associate, and partner with Google Adsense and Ezoic, I earn from qualifying purchases.
Egon Schiele's expressionist paintings were famous in his early period for their harsh and jagged lines, and often controversial subject matter, and the artist's personal reputation matched that of his work
After meeting and marrying his wife, Edith, in 1915, his work softened and began to show a warmth and smoothness of touch which had perhaps been missing until then. The marriage was not without its difficulties, in part because Schiele had previously been involved with Edith's sister, Adele, and her family were very much against the wedding. Portrait of Edith Schiele in a Striped Dress features Schiele depicting his wife as she had been on their wedding day, dressed in the striped dress which she had made for the occasion from curtain fabric. The picture's deep sense of the romantic is enhanced by the tragic knowledge that within three years of this portrait being painted both of the couple would have died from the Spanish Flu pandemic which was sweeping Europe.
In the portrait Edith stands full-length and centrally positioned and facing the artist head-on, but though her gaze is fully on the artist there is a timidity about her stance and around her nervous looking hands and fingers that gives a sense of tenderness to the picture. The background is diffuse and obscure and even Edith's feet and arms feel faint and ghostly, with all the emphasis in the portrait focusing on Edith's face and the bright, bold colours of her striped dress. The affection and innocence in this picture stand in sharp contrast to many of Schiele's other works and are a testament to what was clearly a truly fond and loving marriage - one that never outlived its early flush of promise.
Edith Schiele would inspire a number of artworks from her husband, who was clearly an entirely devoted husband. One solemn piece would be this drawing, which captured a Dying Edith Schiele after she had contracted Spanish Flu. The pandemic would sweep through Vienna and also take her husband too just a few days later. Their deaths would end a turbluent period in which the artist's mentor, Klimt, would also pass away too. It was just at the point that Schiele was starting to enjoy the successes in his career that he had strived so long for, and that was cut short as a sidenote to a pandemic which took around 20m lives in total across Europe. Coming, as it did, just after the end of WWI this was an unimaginably tough period in the continent's history and from this pain the Expressionists would appear within a number of different nations.
This painting from 1915, sometimes known under the alternative name of Portrait of Edith Schiele, the Artist's Wife, resides in the Gemeentemuseum Den Haag in The Hague, Netherlands. The best place to find his work is actually in Vienna, where a large number of items are dispersed around several different art galleries and museums, including oil paintings, watercolours and drawings as well. In terms of the Gemeentemuseum Den Haag, their focus is actually in another notable artist from the 20th century, namely Piet Mondrian. His work developed over time and was at one stage closely aligned with the Expressionist movement but eventually he would push towards true abstraction, as seen in the likes of Broadway Boogie Woogie, Victory Boogie Woogie and also New York City I.