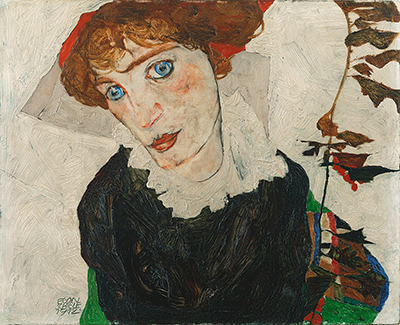 Buy Art Prints Now
from Amazon
* As an Amazon Associate, and partner with Google Adsense and Ezoic, I earn from qualifying purchases.
Portrait of Wally depicts Walburga Neuzil, known as "Wally", a 17-year-old girl whom Schiele had met the previous year. She would model for him on several occasions.
Portrait of Wally (1912) is among Egon Schiele's best known paintings. The artist became infatuated with her, and they were lovers for several years thereafter. Neuzil also acted as Schiele's model. Public reaction to their relationship was strongly negative, especially as a number of other teenage girls modelled for Schiele, and the artist was driven out of one town by residents. Portrait of Wally can be seen as a companion piece to Schiele's Self-Portrait with Chinese Lantern and Fruit, which dates from the same year. However, the artist's relationship with Neuzil came to an abrupt end in 1915 when she discovered he was planning to marry someone else.
When Schiele died from influenza three years later, the painting passed through several owners before ending up with art dealer Friedrich Welz. Welz was captured by the U.S. Army in 1945 and Portrait of Wally was given to the restored Austrian government. Prolific art collector Rudolf Leopold bought the painting in 1954, and held onto it for four decades, rejecting all offers to buy the work from him. During this time, controversy arose when it was claimed by the heirs of Lee Bondi Jaray, who had owned the painting before World War Two. The row simmered on for many years, and in 1994 the Austrian government retrieved Portrait of Wally as part of their $500 million purchase of Leopold's entire collection. The painting became part of the Leopold Museum, where it remains on display. The dispute with Jaray was finally brought to an end in 2010, when the museum agreed a $19 million settlement with his remaining heirs.
Schiele was always a highly sexual individual and these emotions would make their way into his work. Without such a personality he would never have been able to contribute so effectively to the Expressionist movement, where success was dependant on technical ability combined with strong and deep emotions, allowing the likes of Munch and Kirchner also to impress. The artist would eventually marry, but to another, and so this turbulent relationship came to an abrupt end. It seems the despite her young age, Wally was actually a strong and confident character who was not quite the same pushover that many at the time would have assumed. She refused to share her boyfriend, for example, and this makes their relationship slightly less uncomfortable reading than it otherwise might have been.
The portrait captures her looking directly at the viewer, with large blue eyes that immediately draw your attention. Her face is angular with a fairly long and dominant nose. Her lips hold red lipstick and her cheeks some small touches of makeup. Her auburn hair is curly and long, drifting off on the top edge of the canvas. She wears a black outfit, most likely a dress, with a white decorative collar. There are also a few elements of the room in which she sits featured, but most of the background is white. Her head is angled in a way that makes her lean towards us, increasing the size and impact of her face, which was presumably conveys how the artist felt about her appearance too. This painting is technically impressive but it is the role of Wally within the artist's life which makes this piece so significant.
Schiele was clearly sharing a highly sexualised and passionate relationship with this young woman, with it also inspiring other artworks such as Wally Neuzil in Black Stockings (1912) and Wally in Red Blouse with Raised Knees (1913). It was to be a short but exciting relationship, much akin to an affair of sorts, where the male seeks out a younger woman and enjoys a brief but lively relationship that revives his enthusiasm for life, but at the same time is not particularly the right decision long term. Ultimately he would marry elsewhere and so perhaps deep down he understood this relationship for what it was, and maybe Wally did as well. They initially met in 1911, when she was 16 years old. At the time she modelled for Schiele's mentor, Klimt, and there were rumours of a sexual connection between those two, though little evidence of this has ever been provided.
One concerning side to the young girl's life is the amount of times that she is known to have moved, suggesting that she was from a fairly poor and unstable background. This may have made her more vulnerable to older men seeking to use her for modelling, when a more solid family life may have stepped in earlier, even though nothing untoward may actually have ever happened. She herself would carry out a number of other occupations in order to help the family to survive these different times, perhaps making her relationships with two respected artists to be something like a dream. This must also be put in context with the time, with Vienna being a city in demise after the weakening of the Austro-Hungarian empire and also a number of other social issues inflicting large parts of the population including disease and some particularly seedy behaviour in some quarters.