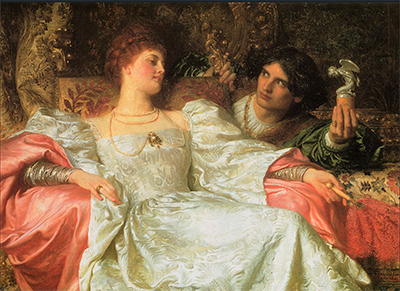 Buy Art Prints Now
from Amazon
* As an Amazon Associate, and partner with Google Adsense and Ezoic, I earn from qualifying purchases.
In 1898, Frank Dicksee painted his art An Offering. In this art he shows clearly his believe in traditions and beauty that he pays so much attention to, in a way that his romanticism style is described by each part of the art and he captures our eyes by using rich colours and authenticity.
It has the following dimensions: the size is 109 cm by 141.5 cm painted using oil on canvas medium. His subjects are dressed in expensive and well-made attire and they are relaxed on a seat in such a passionate mood and the man is admiring the beautiful lady. From an early age he was taught how to paint by his father Thomas Dicksee, together with his siblings, his sister Margret and his brother Herbert who also became known painters as well. He received his success in painting at quite a young age having enrolled in 1870 in the Royal Academy where he expanded his knowledge on art and he learnt a lot from the painters Frederic Lord Leighton and pre-Raphaelite master Sir John Everett Millais. In 1891 he was elected to the academy and later in 1924 he became its president. Many of his pictures were legendary and he died in October 1928. In 2016 Simon Toll wrote a book about his life and his work.
Francis Bernard Dicksee was an English Victorian painter born on 27th November 1853 when pre-Raphaelitism was being acknowledged in Britain. He his mostly remembered for presenting his legendary work in a very dramatic and fabled way. His talents were so unique that he became one of the most celebrated artist of the late 19th century. He painted portraits of fashionable elegant women in such an amazing style that brought him so much fame. In 1925 he was made a knight and named to the Royal Victorian order by King George V in 1927.
Some of his other best work included:
The Funeral of a Viking in 1893; located in Manchester Art Gallery. This picture shows a group of Viking men at the shore sending the body of their fellow dead Viking to sea. This picture was donated to the corporation of Manchester by Arthur Burton.
Harmony in 1877 he painted this picture after he joined the royal academy school during a sketching club session. This was his first art to be exhibited at the royal academy.
The most famous lovers sharing a kiss by the window Romeo and Juliet art in 1884.
The Two Crowns in 1900.
Chivalry in 1885.
A Roman Maiden in 1879.