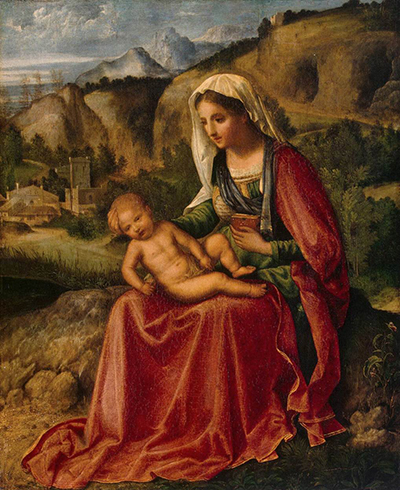 Buy Art Prints Now
from Amazon
* As an Amazon Associate, and partner with Google Adsense and Ezoic, I earn from qualifying purchases.
The mastery of landscape drawing by Giorgione can be traced back to Giovanni Bellini, who was his teacher. Born Giorgio Barbarelli da Castelfranco, he envisioned a beautiful world where everything was related to nature. Most of his drawings have trees and beautiful landscapes.
Despite his age, a lot is attributed to his qualities as a painter, although most of his works cannot be traced. The painting is done using oil on a 44cm high and 37cm wide canvas. It was done in 1503 and is considered as a religious painting. The painting shows a woman with a flowing red dress sitting on a rock in mountainous terrain. Giorgione must have envisioned the woman as Mary the mother of Jesus. Her right hand is gently stroking a child on its forehead while the left-hand holds a bowl, presumably washing its hair. On his laps sits a naked baby who is believed to be Jesus.
The background has 2 houses of notable architecture which represents earthly treasures. The hilly terrain also depicts a countryside setting, typical of the birthplace of Jesus. The painting must have been done on an evening setting, thanks to the illuminating rays of sun shining on the character's faces. It was done when the High Renaissance was the painting theme in the history of Italian painting. Following in the footsteps of his mentor, Giovanni Bellini, the painting was done to show mood through colour. Unfortunately, he did not live long enough to explore this artistic genre to the fullest. The Virgin and Child in a Landscape was among his famous painting during this period.
Although he died at a young age of 36, Giorgione's work has lived through ages to become masterpieces. He teamed up with Tiziano Vecelli to form the Italian Renaissance Painting in Venice, a school credited for offering an artistic hub for prominent artists like Leonardo na Vinci, Andrea Mantegna and Michelangelo di Lodovico Buonarroti. The Virgin and Child in a Landscape was done around the same time as Castelfranco Madonna (1504), The Three Philosophers (1505-10) and the Adoration of the Shepherd (1505).
Most of Giorgione's paintings were lost, destroyed or undocumented. There are only 6 paintings that can be identified and traced to him. Currently, The Virgin and Child in a Landscape is housed at the State Hermitage Museum at the St. Petersburg Russia. No one has the copyrights to this painting although the museum subscribes to the Athenaeum copyrights law of the United States.