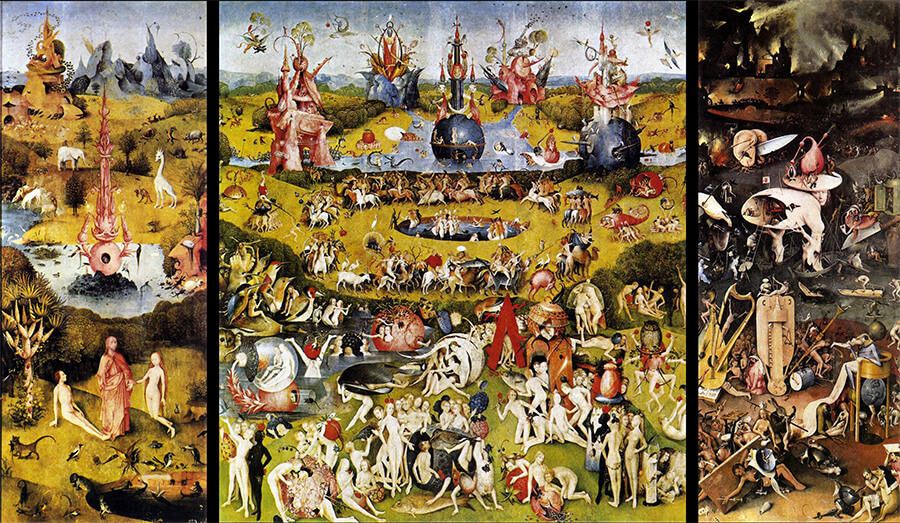 Buy Art Prints Now
from Amazon
* As an Amazon Associate, and partner with Google Adsense and Ezoic, I earn from qualifying purchases.
Hieronymus Bosch was a Dutch Medieval painter who was sometimes referred by people as Jerome Bosch. He was born around 1450 and He died in's-Hertogenbosch in 1516.
Introduction
He is recognized because of his use of vivid imagery that illustrates religious and moral concepts within the society. Hieronymus Bosch is also remembered as a person who produced the initial autonomous sketches of the northern Europe. His painting work also utilizes striking and sometimes seemingly surreal iconography. Before his death Hieronymus had painted several large scale triptychs that included the The Garden of Earthly Delights. Throughout his life and career Hieronymus used his art work to show the follies and sins that humankind commit and the consequences that follow these actions. Hieronymus who was born in the present day Netherlands remains as one of the world arts greatest enigmas. Much about his personal life is little known apart from his art work that has gained recognition worldwide.
Family Life
His family was also artistic and it is believed that's where he gained his painting skills. Hieronymus father, brother and uncles were all painters and they traded with their paintings. Records shows that he was trained by one of his relatives most probably his uncle when he was growing up. During 1480 or 1981 ,he wedded Alety Goyaerts den Meervenne. His wife was from a very wealthy which made him to have an opportunity to enjoy a comfortable life and his social status and class improve dramatically through this union. Hieronymus who was a catholic, went on and joined the brotherhood of Our lady, which was a local religious union that was devoted to the Virgin Mary in 1486. Hieronymus got his first commissions through the union of this brotherhood however none of the works from the brotherhood survived.
Career Highlights
Hieronymus Bosch was known for his disturbing and dark visions and took the opportunity to look at the world around him critically through his work. For example, The Cure of Folly" (c. 1475-1480), he made fun of the barbaric and misguided medical practices that were being utilized in those days. Hieronymus Bosch was also critical and rebuked the individuals who were only interested in seeking and adding their earthly pleasures. "The Ship of Fools" (c. 1490-1500) is one of these works that demonstrated his views about earthly riches. Hieronymus Bosch spent much of his life and career focusing on religious themes. "The Haywain" (c. 1500-02), a triptych, shows Adam and Eve in the inner interior left side panel while the center of the panel shows peasants and clergy men being involved in a sinful behavior. In the right panel Bosch provides a gruesome demonstration of where such behaviors lead to which is hell.
In around 1504, Bosch painted the "The Last Judgment," that showed the fall of the humanity. He began painting the triptych with the removal of Adam and Eve from the Garden of Eden. The other two panels that are inside shows the world being plummeted into brutality, transgression and disarray. Bosch created another triptych, "The Temptation of Saint Anthony" (c. 1505-06), a bit later. In this one, he shows one holy person refusing the endeavors of an evil person to in order to change him and surrender to insidious. There is also a plan to lure saint Antony and he is tempted in several ways but in the last panel he appears being driven away by a crowd of believers.
The Garden of Earthly Delights (c. 1510-15) is among the later works that Bosch did. This work again depicts the decline of the world through sinful behaviors and actions especially lust which makes a beautiful garden to suddenly become dark which is demonstrated in the last panel of triptych. This work also like his other works serves as a tangible piece of lecture for issues related with morality.
Early Life
Bosch lived his entire life in Hertogenbosch where he was born in the capital of the Dutch county of Brabant. Bosch grandfather Jan van Aken who died in 1454 was also a painter and his name was first mentioned in the 1430 records. It is clearly known that Jan had five sons,four of them were painters. Anthonius van Aken who was Bosch's father died in 1978 and he acted as an artistic adviser to the Brotherhood of Our Lady. Many people have come to the conclusion that either one of his uncles or his father taught Bosch how to paint but none of their works survived to be recognized. Bosch initially appeared in the municipal records in the year 1974 and he is named together with his sister and his two brothers.
The town of Hertogenbosch was flourishing in the fifteenth century within the Brabant province which is the present day located south of Netherlands. 4000 houses were destroyed in 1463 by catastrophic fire which the then Bosch who was around thirteen years may have witnessed. Bosch become a very popular painter during his lifetime and he was able to receive very many commissions from abroad. In 1488 he become one of the brotherhood of Our Lady which was an arch-conservative religious that was made up of 40 most influential citizens within Hertogenbosch and other seven thousand members who were from around Europe.
Personal Life
As stated earlier, Bosch married Aleyt Goyaerts van den Meerveen in between 1479 and 1481 and his wife was five years older than the artist. They moved to a nearby city of Oirschot where his wife had gotten land and a house from her rich family. Within the entry records of the Brotherhood of Our Lady shows that Bosch actually died in 1516. His funeral mass was held in the Saint John church in ninth august of the same year.During his life time, Bosch produced many triptychs. The most famous triptychs The Garden of Earthly Delights. This painting shows the paradise that Adam and Eve were with many animals on the left side of the panel and other earthly fantasies with naked figures and good fruits and birds located on the middle panel while hell is depicted with fantastic punishments for different types of evil doers on the right side of the panel. When the out panels are closed, the viewer can clearly show see God creating the Earth painted in grisaille. All these works of painting have rough surface because of paint application. However, this contrasts with the old method of Flemish painting style where the smooth surface tries to hide the fact that the painting is not natural but man made.
Bosch never dated his artistic creations and may have marked just some of them (different marks are unquestionably not his). Less than 25 artworks remain today that can be ascribed to him. Philip II of Spain procured a large portion of Bosch's artistic creations after the painter's passing; therefore, the Prado Museum in Madrid now claims a few of his works, including The Garden of Earthly Delights.
Critical Reception
In early centuries it was regularly trusted that Bosch's craft was motivated by medieval sins and darken hermetic practices. Others imagined that his work was made only to titillate and delight, much like the "grotteschi" of the Italian Renaissance. While the specialty of the more seasoned experts was situated in the physical universe of ordinary experience, Bosch stands up to his viewer with, in the expressions of the workmanship antiquarian Walter Gibson, "a universe of dreams [and] bad dreams in which frames appear to flash and change before our eyes." In the principal known record of Bosch's artistic creations, in 1560 the Spaniard Felipe de Guevara composed that Bosch was viewed simply as "the innovator of creatures and fabrications". In the mid seventeenth century, the Dutch workmanship history specialist Karel van Mander depicted Bosch's work as including "wondrous and odd dreams"; notwithstanding, he presumed that the canvases are "regularly less charming than frightful to take a gander at."
In the twentieth century, researchers have come to view Bosch's vision as less incredible, and acknowledged that his specialty mirrors the customary religious conviction frameworks of his age. His portrayals of corrupt humankind, his originations of Heaven and Hell are currently observed as steady with those generally medieval educational writing and sermons. Most scholars connect a more significant centrality to his compositions than had beforehand been assumed, and endeavor to decipher it regarding a late medieval profound quality. It is for the most part acknowledged that Bosch's craft was made to show particular good and otherworldly truths, and that the pictures rendered have exact and planned importance. As indicated by Dirk Bax, Bosch's artistic creations frequently speak to visual interpretations of verbal illustrations and plays on words drawn from both scriptural and folkloric sources.
Nonetheless, a few scholars consider Bosch to be a proto-sort medieval surrealist, and parallels are frequently made with the twentieth century Spanish craftsman Salvador Dali. Different scholars endeavor to decipher his symbolism utilizing the dialect of Freudian brain research. However such theories are ordinarily dismisses; as indicated by Gibson, "what we call the moxie was criticized by the medieval church as unique sin; what we see as the outflow of the intuitive personality was for the Middle Ages the promptings of God or the Devil."
Collating his Work
The correct number of Bosch's surviving works has been a subject of impressive scholarly argument. He marked just seven of his works of art, and there is vulnerability whether every one of the compositions once attributed to him were really from his hand. It is realized that from the mid sixteenth century onward various duplicates and varieties of his depictions started to flow. What's more, his style was profoundly powerful, and was broadly imitated by his various adherents. Throughout the years, researchers have credited to him less and less of the works once thought to be his, and today just 25 are conclusively attributed to him.
Death
Bosch passed on in Hertogenbosch in August 1516 but the exact date is not yet known but his funeral mass was hosted for him on the same month of august 9.As much as Bosch enjoyed fun and a comfortable life when he was alive, his works even attracted much fun and importance after his death. For example, King Philip II of Spain became one of the people who were serious about collecting Bosch's works. "The Garden of Earthly Delight" was for example hung on the king's bedroom in order to remind the Spanish monarch to keep doing good and to be on the righteous path.
Lack of Documentation around his Life
Bosch left behind no diaries and letters and the little information known about him was taken from the brief references within the Hertogenbosch, and in the account books and records of the local order connected to the Brotherhood of Our Lady. There is nothing much known about his thoughts or personality on the true meaning of his art work. His actual date of birth has not been accurately determined. This was just an estimation of 1450 that was based on a hand drawn portrait that was created shortly after he died in 1516. From this portrait, an artist is seen who has advanced in age and probably at his early seventies.