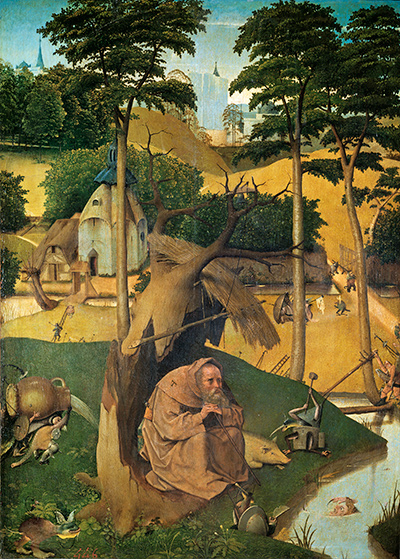 Buy Art Prints Now
from Amazon
* As an Amazon Associate, and partner with Google Adsense and Ezoic, I earn from qualifying purchases.
The temptation of Saint Anthony is a famous story in the Christian tradition. The story goes that St Anthony was a saint who had dedicated his life to chastity.
However, he was tempted one day by the apparitions of beautiful women who tried to entice him to break his vow of chastity. St Anthony eventually scared the women off by biting off his own tongue and spitting it at them.
Always attracted by the more colourful aspects of the Christian tradition, Hieronymus Bosch painted St Anthony's temptation in his characteristic intricate and eccentric style.
Painted in 1500-1525, and again in several other versions up until 1530. There is also a Temptation of St Anthony triptych from 1490 (a painting that is executed on three panels that are joined together by a hinge). That version is in the The National Museum of Ancient Art in Lisbon.
The painting is housed in Madrid's Prado museum, and following doubts about whether it was truly by Hieronymus Bosch, the museum used scientific tests to investigate this claim. The tests, the Prado Museum stated, demonstrated that the work was indeed painted by Hieronymus Bosch.
Hieronymus Bosch's depiction of St Anthony is characteristic of this artist's work. For example, the eccentric figures that litter the page, where parts of the human form are melded with machines and animal bodies are also present in other famous works by Bosch such as his depictions of the Garden of Eden and of hell.
It might be argued that these figures echo the weird and wonderful figures that can be found in manuscripts in the late medieval era and the Renaissance. As mentioned above, Hieronymus Bosch painted several versions of St Anthony's temptation however all of them have similarities.
For example, they tend to represent the saint - or some aspect of his psyche - as a huge fish swathed in a scarlet robe. What this represents may be up for debate, however there are striking similarities between this and Bosch's depiction of St John the Baptist in his painting 'John the Baptist in the Wilderness'.
In this last mentioned painting, John the Baptist is depicted reclining on his stomach swathed in a scarlet robe in a similar fashion to the fish that make an appearance in The Temptation of Saint Anthony.