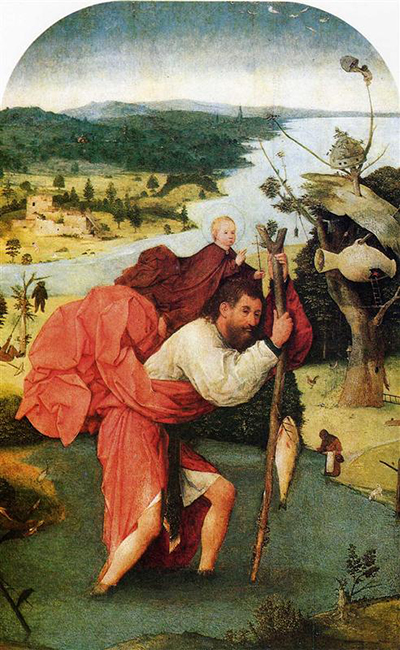 Buy Art Prints Now
from Amazon
* As an Amazon Associate, and partner with Google Adsense and Ezoic, I earn from qualifying purchases.
Saint Christopher is a tall oil painting by Hieronymus Bosch, standing at over a metre long
Some adjustments have been made to this oil on panel artwork, with its original length being around 120cm, thus losing 7cm after the changes. The upper part is curved which is common during the Renaissance as many famous paintings were installed into major religious buildings, making their shapes customised for each requirement. The curved areas of Renaissance interiors meant that any artwork would have to therefore match.
This composition again displays beautiful landscape scenery across the background, sufficient to be a respected painting in its own right. Add in the foreground section which depicts Saint Christopher carrying the Christ Child across a boggy area, perhaps marshland. Whilst on this dangerous and challenging journey, Bosch decided to insert several symbolic items into the background which he repeated in several other oil on oak wood paintings. This artist chose to interpret St Christopher not so much as a patron saint but more a model of Christian behaviour that all others should follow.
The condition of this painting remains relatively good considering its age. The areas taken by a small crop at the top of the panel will have removed some of the clouds that grace the calm sky. The signature itself is also somewhat worn, but was confirmed as Bosch's own many years ago and the painting remains unquestionably of his own.
The original has since left its intended location to now be found at the Museum Boijmans Van Beuningen in Rotterdam, Netherlands. One interesting element to this particular museum is that it covers the breadth of European art, from the middle ages up to the more recent decades, where as most others will specialise in certain centuries' work.
You will also find within their collection the likes of Boy with Dogs in a Landscape by Titian, Two Horses in a Landscape by Hans Memling, The Pedler by Hieronymus Bosch and a sketch by Rembrandt entitled The Entombment. Additionally, find multiple sketches by Paul Cezanne plus paintings by Jacob van Ruisdael.