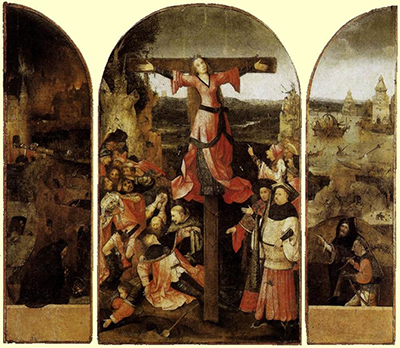 Buy Art Prints Now
from Amazon
* As an Amazon Associate, and partner with Google Adsense and Ezoic, I earn from qualifying purchases.
The Crucifixion of St Julia is also sometimes referred to as the St Liberata Triptych and is a complex work from Netherlandish master, Hieronymus Bosch
This triptych can now be found at the Palazzo Ducale in Venice and is one of his most important artworks in this multi-panel format. The total size of the painting is 119cm by 104cm and is was completed around 1497. Almost all of Hieronymus Bosch's paintings have loosely attributed dates due to the lack of documentation which exists from this period, mainly with it being many hundreds of years ago.
There was a course of dendochronologic analysis which ultimately put its attributions beyond question, making this a much more confident claim than the dates given to some of his other work which would not have had such indepth studies carried out. Indeed, some would not be in a sufficient condition to make this even possible.
The majority of Bosch paintings that are to be found in Italy would have been produced whilst he was visiting the country. This country, formed of papal states at the time, had long since drawn artists from around the European continent who were looking to learn more about the Italian Renaissance plus artistic movements which began even before then.
The most skilled artists of this period were able to build reputations across Europe and Bosch managed to achieve this for himself. As such he was able to earn commissions from notable figures outside of his home region of what is now the Netherlands. It is believed that this particular triptych was itself a commissioned article from an Italian trader or diplomat. This would also make sense because they may have learnt about his work whilst visiting Bosch's own area of influence in Flanders.
This triptych was moved to Austria where much of Bosch's paintings still remain today, before being returned to its intended home of Venice in 1919. Its ownership is relatively clear as far back as 1771, but not much is known of it before then.
The central panel of any triptych is always the key focus for the artist, with the side panels often serving as purely supporting elements. Within this particular central panel you will find the crucifixion of a saint generally identified as Saint Julia of Corsica.