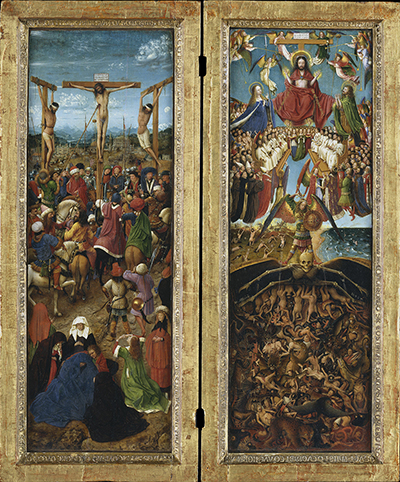 Buy Art Prints Now
from Amazon
* As an Amazon Associate, and partner with Google Adsense and Ezoic, I earn from qualifying purchases.
This diptych features two beautifully constructed panel paintings, capturing The Crucifixion and Last Judgement. Jan van Eyck devoted much of his career to religious themes such as these, though also was highly skilled in portraiture as well as landscape scenes.
We do know that Van Eyck would call upon the services of members of his studio in order to complete elements of these paintings, but he would have worked on the key parts of each scene, as well as being heavily involved in directing their work. There are, unfortunately, no records to explain who helped him out and in which parts of the paintings, but art historians have been able to produce a concensus of opinion over the parts completed by Jan van Eyck himself. Attribution are the role of his workshop has led to a number of questionmarks arising around his career in general, with some pieces later linked to his brother Hubert. The very early nature of this period means it is impossible know to discover new information around these works, other than perhaps through scientific research, that only a few institutions are able to afford to do or have the required expertise to do so accurately and safely.
Van Eyck was someone who took oil painting from its infancy and developed new techniques that shocked and excited in equal measure. His ability to realistically capture items within his paintings stood out from what had gone before and helped him become one of the standout figures within the Northern Renaissance. A detailed look at both of the panels will also reveal a level of iconography which had not been used before within European art, or not as prominently as this at least. Its success would encourage many other local artists to follow the same methods in the years after Van Eyck's death.
This delightful piece can be found in the prestigious collection of the Metropolitan Museum of Art in New York, USA. The overall artwork is oil on canvas, having been transferred from the original wood panelling as used by Van Eyck. Each of the two artworks is sized at 56.5 cm × 19.7 cm, making them relatively small by the standards of later art movements, but typical of this particular period. The diptych is dated loosely at around 1430-1440 and captures two of the most iconic scenes in Christian teachings, themes which persist throughout European art, particularly in the 15th and 16th century. Those looking to see this painting in person will also be able to enjoy some other exciting artworks here as well, many of which are directly related to the style and period of Jan van Eyck. For example, some of the highlights found within this institution's collection include Melencolia I by Albrecht Dürer, Polyptych with the Nativity by Rogier van der Weyden, Triptych with the Annunciation by Robert Campin and also Jacques-Louis David's The Death of Socrates. There are also some notable sculptures including Bernini's Bacchanal and a single cast from Rodin's iconic The Burghers of Calais.