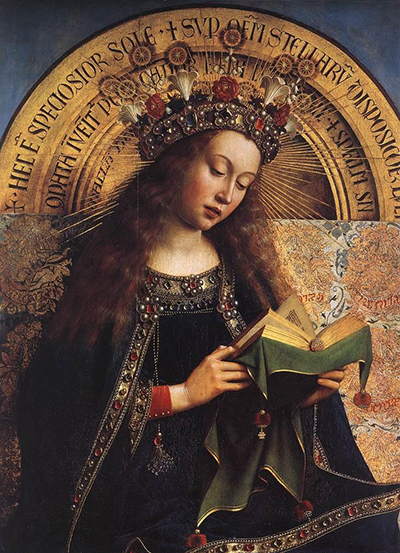 Buy Art Prints Now
from Amazon
* As an Amazon Associate, and partner with Google Adsense and Ezoic, I earn from qualifying purchases.
Jan van Eyck's career highlights included the Ghent Altarpiece and Arnolfini Portrait, but this biography outlines his extraordinary path from a young apprentice to one of the masters of the Northern Renaissance
This was an artist who helped to establish the medium of oil painting within European art. He was one of many early exponents of this art form within Netherlandish art circles, and this legacy alone was enough to shape the direction of painting right across the continent. It would be just a matter of years, for example, before the Italian Renaissance artists would switch from fresco and tempera art to this exciting new alternative.
Early Life
Jan van Eyck was born at some point before 1390, in the town of Maaseik in modern-day Belgium. During his lifetime the town was part of the Bishopric of Liège, in the Holy Roman Empire. He therefore would have been classed as 'Netherlandish' and he would play a significant role in this region's contributions to the Northern Renaissance, alongside the likes of Albrecht Durer and Hieronymus Bosch.
He had two brothers, Hubert and Lambert, plus a sister called Margareta. The brothers' names are also the two patron saints of Liège, signifying Jan's parents' respect for this region. Both of his brothers were also painters, and it is believed that they worked together. Indeed, Hubert may have been responsible for Jan's initial training and they would have worked collaboratively on various artworks. A number of paintings have been attributed to Hubert van Eyck, but most were finished at a later date by another artist, due to his relatively early passing in 1426.
As a young man, Jan would have been educated in the classics, as indicated by his use of Latin, Greek and Hebrew lettering within his career. This level of education gave him an advantage in life, and was partly how he later was employed in diplomatic missions, alongside his role as court painter. This knowledge would also later be expanded through travels abroad, further expanding his understanding of the world and different cultures.
Duke of Bavaria
Our first understanding of his career comes in 1422, at which point he was appointed painter and valet de chambre to John III the Pitiless, the Duke of Bavaria. This is indicated by a number of recorded payments made to the artist by the Duke and Duchess under the label of 'Wages and Pensions'. There is some documentation that might uncover Jan's earlier life, but it has never been fully verified. Indeed, letters uncovered detailing his role in 1422, describe both Jan and his brother Hubert as masters already and also that Margareta may also have been a painter herself and was part of a Ghent guild of artists.
For this role he was based in The Hague and we can conclude from this promotion that he would already have been a respected, established professional artist by this point. Van Eyck is also likely to have built up a small studio of assistants prior to accepting this prominent position. He would serve here for three years, before the role was cut short prematurely by the death of his employer in 1425. Jan would have paid his own staff out of the payments from the Duke and Duchess, and further records suggest that he also employed various servants.
The final payment recorded to him from the Duke of Bavaria was made in February 1425, which is also around one month after Jan's employer had passed away. This, therefore, appears to have been a final payment made to conclude their business together, and Jan was now free to seek alternative employment. Records suggests his next role, serving Philip the Good, commenced in June of that same year, marking a relatively smooth transition for the artist.
Court of Duke Philip the Good
In order to to take up this new role, Jan relocated to Lille as court painter to Philip the Good, Duke of Burgundy. He would remain based in the city until 1429. During his service to Philip he would go on several diplomatic journeys around Europe aiming to tie several families together through politically-motivated marriages. He would invariably pose purely as an artist and provide portraits to his hosts, whilst then attempting to enter negotiations into arranging mutually beneficial unions.
Jan's new employer was actually based in Bruges, where the two would have originally met, but it was decided that the artist would head to his alternative properties in Lille in order to help out with their renovation. Some of his work in this period is something of a mystery, but their relationship would prove beneficial to both parties.
Final Decade
It was then, in 1429, that Jan van Eyck would relocate to Bruges. He remained here for the remaining 12 years of his life, until his passing in around 1441. Having served two prominent roles, the artist was now able to confidently and boldly experiment with his work, bringing innovative ideas into the final decade of his career. Having settled back in Bruges, the artist chose to marry Margaret, a lady fifteen years his junior. They would have two children together and she also appeared in one of his portrait paintings towards the end of his life. Her presence within his oeuvre would suggest a relatively happy, stable marriage, and she is depicted in a respecful manner within that 1439 piece.
Death
Jan van Eyck died on the 9th of July, 1441. He would have been in his fifties or sixties by that point, with his precise birth date unknown. He was laid to rest at the Church of St Donatian, before later being moved to the nearby St Donatian's Cathedral in 1442. Many secrets remain from his life and career, including the cause of death, but in the centuries that have passed since, many research projects have attempted to fill in some of these blanks.
Legacy
Jan van Eyck was a deep thinker, and would use his art to convey the connection between the spiritual and material worlds. He also incorporated a level of realism within his depictions that had never been seen before, thanks to his well honed handling of oils. Van Eyck was also able to bridge the gap between our world, and the spiritual world which made some of his themes more accessible to the general public. His attention to detail was extraordinary, with many new surprises to be found within his more complex works even after the initial viewing. Some of these touches would bring touches of symbolism to each piece.