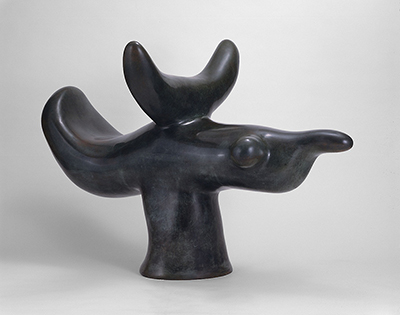 Buy Art Prints Now
from Amazon
* As an Amazon Associate, and partner with Google Adsense and Ezoic, I earn from qualifying purchases.
Solar Bird, also sometimes known as Lunar Bird, was a sculpture by Joan Miro whose development was spread over several decades.
The artist constructed the initial mould entirely by hand in the 1940s, before making adjustments to it many years later. The inclusion of birds and the theme of cosmology were highly common within this artist's career, but his use of sculpture was far more rare. Solar Bird would eventually be made from bronze and sculpture would now start to become a much more significant part of the artist's oeuvre. His last major project would also be a sculpture - Dona I Ocell - and this took his ambitions to the extreme. Solar Bird by comparison is a more conventional size and was highly suitable for perhaps a small sculpture garden which feels appropriate considering its nature theme.
Washington DC hosts the casted bronze and the fact that Miro produced the mould with him own hands massively increases its importance. We do know that he regularly worked alongside others and so collaborative pieces were common, particularly in mediums with which he was less familiar. For his paintings, though, he would handle everything else but was happy to learn about other artist's ideas, such as when alongside Cubists and Surrealists. Those experiences brought about new work in the 1920s but eventually he focused on abstract art and carried on alone. By that stage he was also older and more confident, focusing on his use of colour with a particular priority.
Solar Bird is considered one of the key sculptures from this Catalan's varied career. In recent years there has been a greater effort to discuss the full breadth of his oeuvre, as previously most have only discussed his paintings. It is not easy to produce exhibitions of large sculptures which are dispersed all across the world, with many unsuitable for moving even a short distance. Other exciting sculptures produced by Miro included the likes of Miro's Chicago and Grande Maternité. Catalan art has done so much for western art and Miro was just one of a number of key contributors. Another impressive individual was Antoni Gaudi who designed buildings such as La Sagrada Familia, Park Güell and Casa Batlló.