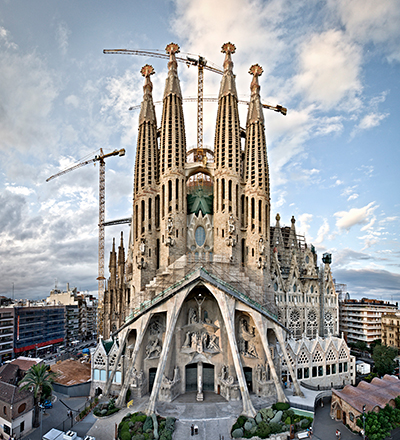 Buy Art Prints Now
from Amazon
* As an Amazon Associate, and partner with Google Adsense and Ezoic, I earn from qualifying purchases.
La Sagrada Família, is a large Roman Catholic basilica in the city of Barcelona whose design became an obsessive chapter in the later life of Antoni Gaudi. This ambitious project remains under construction but remains one of the major architectural highlights of the Catalan city.
The overall building work can hopefully be finished before 2026, which will mark the centenary anniversary of Gaudi's death. That would be particularly apt, such is the amount of work and passion that he put into the early stages of its development. By the time of his passing in 1926, the work was only around a quarter completed. The level of detail and architectural complexity makes this one of the most boldest and complex architectural projects in recent history. Gaudi's role was to take over the project after the previous architect resigned over creative differences. Whilst initial plans were already in place, Gaudi set about adapting them as much as possible in order to mould the project into his own style and over time many elements of the original design were watered down or removed completely. Eventually it would become a building entirely of Gaudi's own making and this helped to ensure consistency across the construction which has been faithfully adhered to even after his passing.
The majority of Gaudi's work was completed in the city of Barcelona, somewhere he moved to with his brother at a young age in order to chase his dreams. La Sagrada Família would be his pinnacle as an artist, the result of years of development and success on smaller projects across the region. He was constantly innovating over these years and also developing his knowledge of the technical side of architecture. Cultural tourists cannot have a trip to this city without becoming aware of the impact made by this creative genius at some point on their journey, whether they were previously interested in architecture or not. His qualities and achievements took his reputation far beyond just the community of this discipline, he essentially became a celebrity whose name will remain strong whilst his buildings continue to be preserved and celebrated.
The main reason for the length of time that it has taken to potentially complete this project is due to several periods of inactivity. La Sagrada Família has become a highly political item within the lives of local politicians but it seems that this impasse has finally been overcome and there is a genuine belief that 2026 will mark the end of all building activities. Whilst already open to the public, there will likely be a great celebration to mark this moment and with room for 1,500 singers, 700 children and 7 organs, there is scope for it to be a party as impressive as the building itself. Only an architect could find his work being finished off a full century after he himself has passed away but hopefully this event will also help to remind the world of the technical and creative qualities of this Catalan genius.
Gaudi's work was always embroiled in one controversy or another. This project was no different and it's significance to the city of Barcelona ensured that residents were even more passionate about their approval or rejection of its progress. It can only be described as a saga, where some have tried to dilute the influence of Gaudi whilst others have complained that some of his original designs were not being closely enough adhered to. When you add in several political events that delayed or altered the course of the project, it has certainly had a turbulent path to get to the condition that it now finds itself in. It was even interrupted by the Spanish civil war which destroyed some of the original designs and set the project back by over a decade. In many ways, it will be a relief to see this construction finished and able to rest at last from the political interferences that have blighted it's life up to now.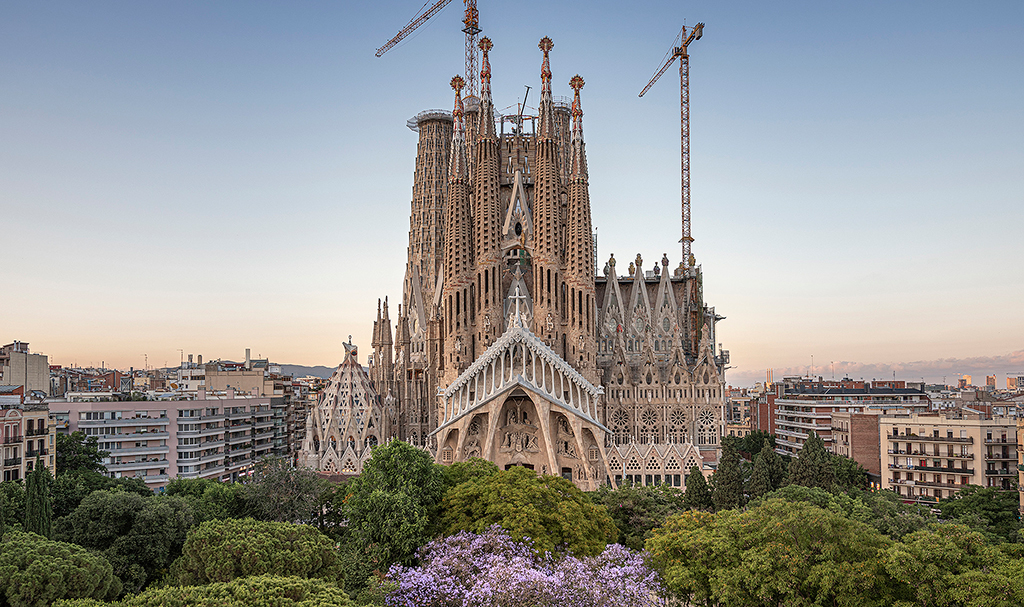 Gaudi was only 31 years of age when he first started directing the work on this site. He would never have imagined that the project would have taken so long to complete, even allowing for his unusual planning techniques which left a lot to be worked out during the construction process itself, rather than before it had started. In the early stages he believed that a single decade would have been enough to finish it off. The financial backing for this project was symbolically left as donation-only in order to communicate the role of this building and its moral strength. This would cause issues in the development process, though, as funds would sometimes dry up and cause extended delays in the work on the ground. It was also harder to argue towards removing the work of the previous architect when this had already been funded by generous donations too. Gaudi was a strong-willed character who would find it hard to work within any constraints, but was forced too because of the prominence of this project and the role that it could have in his career.
Gaudi's style of architecture was unique but many have attempted to pigeon-hole him into several different art movements. Whilst we see the signatures of his style with our own eyes, and without concerning ourselves with how to categorise it, many others do and have placed his work within the realms of Spanish Late Gothic, Catalan Modernism and Art Nouveau. He, inevitably, does not fit particularly comfortably into any of these groups individually but there is plenty of evidence to suggest that his designs span across these different groups. Most think of artists like Alphonse Mucha when they someone mentions Art Nouveau, and this movement was predominantly involved in illustration, meaning Gaudi would have stretched it considerably to match his own mediums and disciplines. With regards Catalan Modernism, Gaudi was the most influential member of this group and so inevitably he would be considered as working in accordance with it's overall characteristics.
Buy Tickets for La Sagrada Familia Cathedral in Barcelona
Most tourists will want to fit in a visit to the Sagrada Familia during their stay, whether they are interested in Gothic architecture and the career of Gaudi, or not. Most sites in Barcelona are reasonably priced, with a ticket for the basilica (often mistaken for a cathedral) being around 20 euros at the time of writing. Plenty more options are available to tailor your visit, such as the opportunity to climb to the top of one of the famous towers or to include entrance to some of the architect's other buildings as part of the same ticket. You may also want to take advantage of the opportunities for families or school parties. One pleasing aspect to your payment is that it helps to keep the construction work going and will ultimately facilitate the completion of the project, currently estimated at around 2026.
For those who prefer to buy in person, there is a surcharge for purchasing on the day through the ticket office, but this may still appeal to those who prefer not to purchase tickets via the internet. The ticket types on sale are the same from both sources, but the venue is extremely busy during peak times and so you would always be advised to purchase online in order to avoid the queues. As the venue nears completion, the crowds are likely to continue to rise, too, making this problem even worse. Those without access to the internet may ask a friend or family member to purchase them on their behalf to avoid this extra stress on the day of your visit. The opening hours vary across the year, so always check ahead before visiting. The trip up the towers can also sometimes be cancelled due to planned maintenance.
Directions to La Sagrada Familia
The venue is served by a number of bus and underground routes. Access to some of these may also be included in Barcelona-wide tickets which would be a worthwhile investment for those visiting the city for a number of days and looking to visit several different attractions. Those arriving in groups, you should enter via an alternative entry point which aims to avoid mass-congestion outside the venue during peak hours.
Opening Hours of La Sagrada Familia
The following opening hours were taken from the official website in early 2020 and may now be out of date. Please check ahead before visiting in order to ensure your choice of excursion is available.
November through February: 9 am to 6 pm.
March and October: 9 am to 7 pm.
April through September: 9 am to 8 pm.
25 and 26 December, 1 and 6 January: 9 am to 2 pm.
Last tickets sold thirty minutes before closing time.
The opening times and days may occasionally be modified by the management due to special events taking place inside the Basilica.