One could argue that this bright building shows Gaudi at his rawest, prior to several more years of training and influences from other architects. We can also immediately see a stylistic difference to some of his later designs, such as the world famous La Sagrada Familia. Casa Vicens is generally regarded as part of the Art Nouveau movement, a group that was spearheaded by the illustrator Alphonse Mucha. As with most of Gaudi's work in Barcelona, this venue has been converted into a museum and also remains a significant point on the trail across the city which tracks down the major highlights of his career. Barcelona without Gaudi is completely unthinkable, ensuring that his major projects will always retain a high level of preservation from the local council.
This stunning piece of architecture can be found in the Barcelona street of Gràcia on Carrer de les Carolines and is believed to have been inspired by the Neo-Mudéjar (Moorish) style of architecture. Gaudi himself is known to have studied international architecture over a number of years and took in ideas from Japan, India and also the Moorish race. He was passionate about these alternative approaches and would spend his own spare time on top of his studies in order to learn as much and as quickly as possible. Beyond the theory and study of architecture, Gaudi was also highly technical and brought a number of new ideas into the discipline, including experimental work with materials such as iron and glass. Perhaps most memorable were his techniques with ceramic tiles which he would paint brightly and then break into random shapes to create mosaics.
The building was intended to be used as a summer home and was commissioned by Manuel Vicens i Montaner who had inherited the building from his mother in 1877. Six years later he would set about seeking permission to make substantial changes to make the property more to his own taste. He also employed Gaudi to put together the designs for this project. The building was known to have fallen into disrepair, making the council far more likely to give in to his request. Vicens is a much less known donor that some of the others who commissioned projects during Gaudi's career, even though considerable efforts have been made to learn more about the man behind this exciting building. It would have added more to this project to have understood the reasons behind Vicens' open minded attitude to allow a relatively inexperienced architect to produce something quite so unique for that period. Few donors would have allowed such a blank canvas and room for expression as this one, all to the benefit of the architect and the city of Barcelona.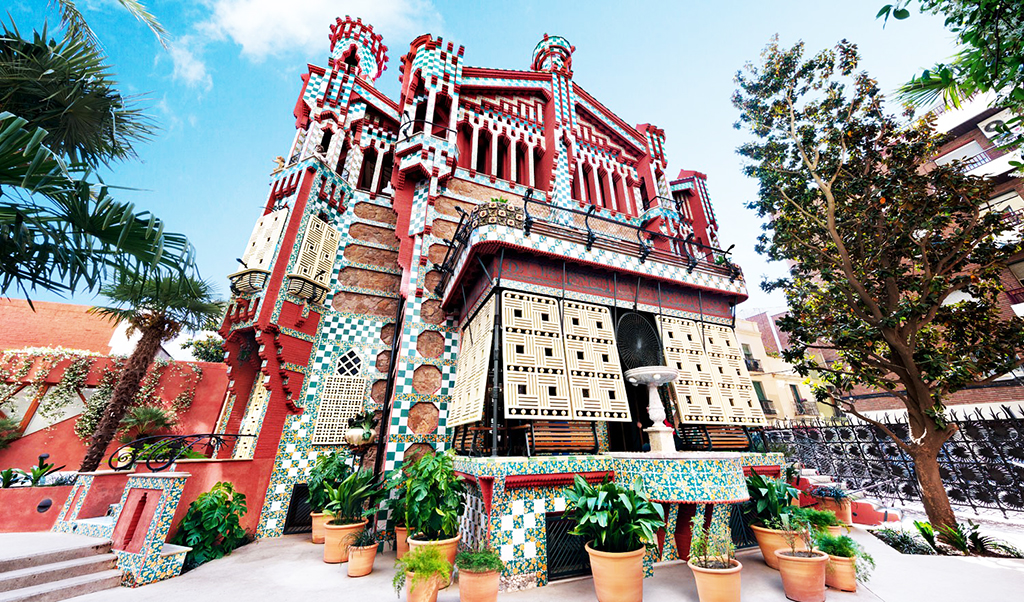 Buy Tickets for Casa Vicens
There are a variety of tickets available for this venue, all of which can be purchased online from the building's official website or in person at the house. It is always advisable to purchase tickets prior to arrival in order to avoid the queues, which in Barcelona can often be substantial and an unnecessary waste of time on your holiday. Additionally, for foreign travellers it is always easier to order tickets through an English-translated website than to try to communicate directly on the day. Holidays should always be as relaxing and enjoy as possible and a small level of planning can help to achieve this. Additionally, there are often price reductions available to those buying online, because of the lower overheads that it requires. It is worth spending a few hours purchasing all tickets for the venues that you expect to visit during your trip, then leaving a little part of the holiday where you might decide on the day what you feel like doing.
Many art galleries and museums in major European cities have recently been developing their services in order to maximise revenue streams and this house has done the same. New features include premium hours where visitors can pay a little more to enjoy the venue at quieter times, or during hours that allow workers to visit out of normal hours. There is also food and drink available too which can be included as part of your ticket or purchased separately on the day. For those looking to learn more about this venue, there are a number of guided tours that may be of interest to you and can also be paid for as part of your overall ticket. Most guides are particularly knowledgeable and can answer most questions that you have on the day.
Directions to the House
You can discover this venue in the Gràcia district of Barcelona. It is well supported by public transport, namely several bus routes and also the Metro. There are several car parks within walking distance too. For tourists using some of the city tours, there is also a specific stop for the Casa Vicens and we would recommend a stop of around one to two hours in order to get the most out of this star attraction. Further information on finding this location can be found at the official website of CasaVicens.org, which is regularly updated to account for any local changes.
Visitor Reviews of Casa Vicens
The house remains a particularly popular venue as part of the Gaudi trail. We have listed some comments from recent visitors below, courtesy of the building's official website at CasaVicens.org. By repurposing Gaudi's original buildings Barcelona has succeeded in ensuring there are funds available to guarantee their maintenance into the future. Tourism is a highly competitive industry and some items such as these simply cannot be recreated in other cities and remain a unique selling point to this city, going way beyond just attracting those knowledgeable of the discipline of architecture.
"...Absolutely magical! Friendly staff and incredible architecture - I especially loved the smoking room, the domed room and the rooftop. Could have stayed here for the whole day just admiring the architecture. Amazing..."
"...A house in vivid colors, decorated with ceramic tiles, with lots of amazing details. Among other houses gives the impression of a fairytale..."
"...A house that doesn't look like anything in the world. The attention to detail during the restoration is amazing..."
"...My absolute favourite modernist building in Barcelona, small lovely beautiful exquisite inside and out!..."
"...This place is unreal, this looks a dream!..."
"...Wish I could live in this beautiful house. The ornaments are so beautiful, the house still lives like a vibrant forest. My favorite of Gaudi..."