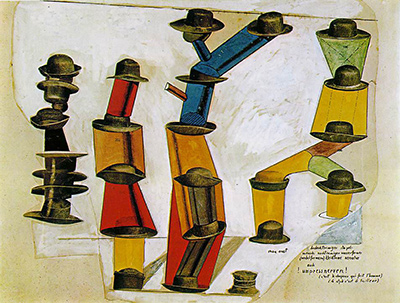 Buy Art Prints Now
from Amazon
* As an Amazon Associate, and partner with Google Adsense and Ezoic, I earn from qualifying purchases.
The Hat Makes the Man is an oil and ink cut and paste art piece composed by Max Ernst in 1920. The art piece featured images of men's hats from sales catalogs that were cut and pasted into towers by the artist.
These hats were artistically unionized by paint, ink, and pencil into towers to create an engaging abstract piece. It is believed the piece was inspired by Sigmund Freud, more especially a bok called "the Joke and it's Relation to the Unconscious" written in 1905. The book depicted the men's hat as a physiologic analogy for repressed desire. Max Ernst did a great job of taking this analogy and portraying it with a variety of techniques and colors.
The Hat Makes the Man was part of the Dada Movement, an artistic movement in the 1920s that rejected the overall concept of capitalism in Europe. The Hat Makes the Man was a way to bring awareness to this concept, using hats, often associated with materialistic items, to make a point. It also was used to criticize mainstream culture. The underlying meaning was to represent the modern man as an individual who conforms to the social expectations (in this case, being wealthy and having materialistic items like the top hat).
The abstract piece itself features a series of crooked towers stacked with layers of hats. The oil and ink add a variety of colors including blue, red, orange and yellow to add interest. Additionally, Max Ernst also added a number of inscriptions including "seed-covered stacked-up man seedless waterformer ('edelformer') well-fitting nervous system also tightly fitting nerves! (the hat makes the man) (style is the tailor)." which can found in the bottom right of the painting.
This abstract piece is 35.6 cm × 45.7 cm or 14 in × 18 in and was printed on drawn on paper board. Now, The Hat Makes the Man can be found in the Museum of Modern Art, in New York City. Without a doubt, The Hat Makes the Man by Max Ernst is an essential part of the German artist's collection. It features a unique use of material to depict his concerns of capitalism and his dadaist beliefs.