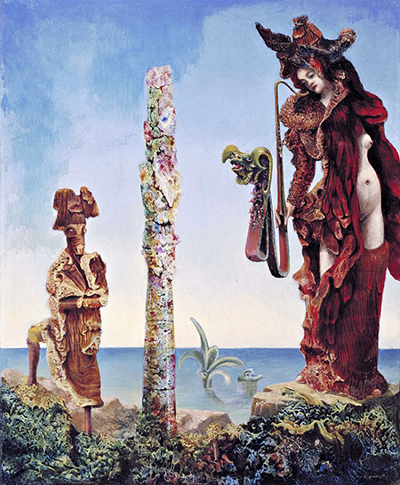 Buy Art Prints Now
from Amazon
* As an Amazon Associate, and partner with Google Adsense and Ezoic, I earn from qualifying purchases.
Max Ernst painted his surrealist work Napoleon in the Wilderness in 1941, and the painting is said to be an abstract interpretation of World War II and was produced in the year that Germany first launched it's Russian campaign on the Eastern Front.
Max Ernst had fled Europe before the painting was undertaken and was living in the U.S.A. Ernst was originally from Germany, and as well as his talents as an artist and a pioneer of the Dada movement of art, he was also a poet, graphic artist and sculptor. Interestingly, Ernst had no formal training but used various experimental techniques and invented what was known as frottage which entailed making pencil rubbings of objects, and 'grattage' in which paint is scraped over a canvas with objects placed below. In his early life Ernst had been inspired by paintings by Picasso, Van Gogh and Gauguin and he also fostered a rebellious attitude from childhood having been raised in a strict and religious family.
In Napoleon in the Wilderness Ernst used a technique known as decalomania which was developed in the 18th century in England. This technique consisted of spreading paint over parts of a canvas and then pressing paper or glass onto the canvas. The resulting random rivulets and air bubbles produced different effects on the surface of the canvas – the artist then uses a paintbrush to refine the effects into whatever he sees forming from the structures and shape them into moss or coral.
The decalomania technique had much older origins in one sense, as Leonardo da Vinci had referenced a similar process in about 1500 whereby even a stain-spattered wall could be seen to have shapes or patterns that would lend themselves to the artist's imagination. The artist would use these random designs to enable him to create landscapes such as rocks, trees and rivers and Ernst follows this tradition of using textures and paint to create suggested forms.
The remarkable painting Napoleon in the Wilderness by Ernst now resides in the Museum of Modern Art in New York City and is a testament to the ability and imagination of the artist. Ernst stated that the painting was potentially "an unconscious expression of my feelings at the time," and the images evoke a sense of flux and decay showing the defeated Napoleon in an exiled wilderness.