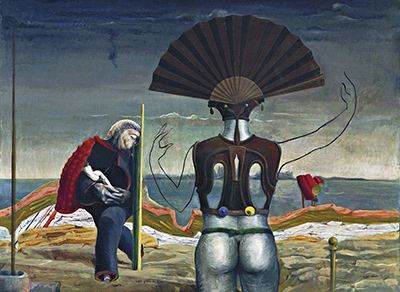 Buy Art Prints Now
from Amazon
* As an Amazon Associate, and partner with Google Adsense and Ezoic, I earn from qualifying purchases.
Woman, Old Man and Flower by Max Ernest is an oil on canvas painting with a dimension of 96.5x130.2 cm. Ernest pained this artwork in 1923 but modified the picture's elements after moving to Paris. The current location of the painting is in the Museum of Modern Art in New York, US.
The images in the painting are a woman, an old man and a vast ocean, but the flower is not in the picture. Ernest may have added the name flower to the art to refer to the woman. The modifications that Ernest did was on the woman's arm that looks incomplete. The picture clearly shows the characteristics of surrealism painting as it raises a lot of questions, such as where the flower could be and the actions of the old man in the picture. The old man's posture suggests that he is greeting the woman or bowing as a show of respects which again brings the clue that the woman could be a deity.
Other questions in about the image are why Ernest did not complete the woman's arms, why the woman's torso is transparent, and why Ernest decided to modify the image. The painting has a taste of Modernism because of the overpainting strategies visible on the woman's arms. Ernest added the woman's arms over the painting as a modification, but it remains a mystery why he decided to do it. There is also a form of colour fade at the top of the painting showing the sky but the colour changes where the ocean meets the ground.
Ernst studied art together with other fields such as history, philosophy, psychiatry and literature but his inspiration into art was not much influenced by his education. His father was an armature painter whose works inspired him as a young boy. Ernst further gained interest in painting when he visited the Sonderbund exhibition in Cologne where works of great artists such as Pablo Picasso and Vincent Van Gogh were displayed. The post-impressionist style displayed in van Gogh and Picasso's paintings shaped Ernest's painting style.
Still, he was also experimental in painting and invested new art techniques such as frottage and grattage. Ernst works found a place in museum walls around the world and impacted other Surrealists artists like Salvador Dali. Ernest is also remembered for promoting the growth of the surrealist movement and acceptance of surrealism art.