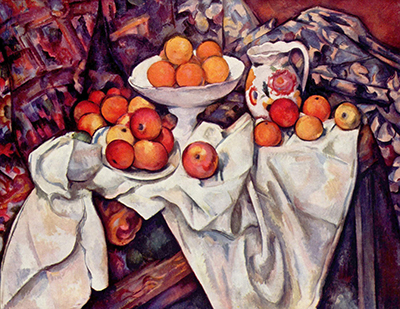 Buy Art Prints Now
from Amazon
* As an Amazon Associate, and partner with Google Adsense and Ezoic, I earn from qualifying purchases.
Paul Cézanne painted Apples and Oranges, a still life canvas oil painting, around 1899. It's among the last pieces that the French artist did near the end of his life. During the same period, he did five others with similar subjects and styles.
This still life is one of the most recognisable Cézanne works. It falls in the Modernist category of paintings that the French artist completed later in his career. However, the still life is often classified under the framework of Impressionism, of which Cézanne was an expert. This painting and others in the series borrowed some inspiration from Flemish still lifes.
A Neat Table Setting
The French painter used ordinary items as subjects for this piece. It has apples and oranges set in earthenware. Two bowls are present in the still life, each one containing a bunch of fruits. Other fruits are scattered around the setting. Amidst all the fruits is a white jug with colourful floral patterns. A wooden table or stand is visible underneath a colourful drape. The fruits are resting on a white tablecloth that falls carelessly to the ground. The right section of the scene seems to be brighter than the left, as if a light is shining on one side of it, providing contrast.
Playing with Colours
Cézanne didn't just paint a random fruit arrangement on a beautifully draped table. Every part of this scene is deliberate. He achieved a unique balance by using the right colours and objects. The fabric covering the table serves as a background. It combines shades of purple, red and brown. White earthenware makes the yellow and orange of the fruits stand out. The apples and oranges look well ripened. The water jug by the side has the same effect. Its white colour matches the tablecloth and bowls. The floral prints on the pitcher complement the fruits. Its positioning acts as a bridge between the tablecloth, fruits and drapery, providing continuity through colour. Cézanne laid out the tablecloth such that it generates curves around the scene.
The still life of Apples and Oranges shows excellent control by the artist. Cézanne takes individual elements and blends them to create a perfectly balanced scene. He doesn't let the bright-coloured fruits overwhelm everything else going on in the scene. Even though the setting is crowded, the arrangement offers a sense of spaciousness. The painter adds the folds of the tablecloth and the drapery in a way that brings the picture to life. It's easy to feel the white tablecloth flowing down the table. Although the scene includes a lot of folds, there is stability in all of it. Cézanne's Apples and Oranges has been at the Musée d'Orsay in Paris since 1986.