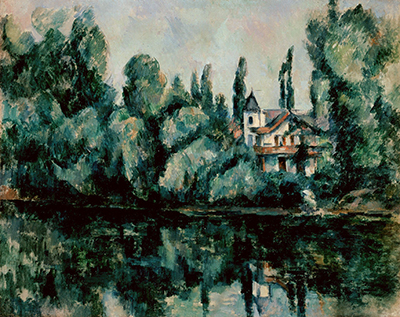 Buy Art Prints Now
from Amazon
* As an Amazon Associate, and partner with Google Adsense and Ezoic, I earn from qualifying purchases.
Paul Cezanne employed the use of perspective, colour and fields of composition in his paintings, which were instrumental in aiding the transition from the 19th century art to the 20th century abstract art.
Painting landscapes was arguably his favoured motif in his career as an Impressionist artist, especially the shivering reflection in the water, which was a symbol of the aspect of the changeability of the world as we visualise it.
Location
The painting was done in Circa in 1888 and a quick peek at the painting you can immediately see the still waters at the foreground and a house and trees at the middle ground and skies farther in the background of the painting. The inner balance of the painting was achieved by a sequence of horizontal and vertical bands and the horizontal and vertical lines played crucial role in defining the state of equilibrium of the painting.
Technique
Cezanne made the water in the mirror appear frozen and mirror-like because he openly rejected the approach of his colleagues and went out of his way to ensure that the painting clearly captured the permanence and not the transitory aspect of the painting. Ordinarily, as an Impressionist artist, the water in the picture would have shivering reflections but the reflections in this painting are still. The centralisation of the trees in the painting evokes feelings of stability and enclosure, which was brought to life the by the brushstrokes that followed the form of the objects in the painting that clearly model the generalized shapes.
In essence, these shapes are simplistic bodies with simple geometry. He achieved to create a variation in the tonality of the colouring in the painting that is depicted by the bluish air and green trees. The overall feeling the painting evokes is the clarity in the structure of the material world and the beauty of nature in its majestic form. The materials used were oil based paints on canvas.
Influences
Paul Cezanne had a massive influence in the history of art because of his mastery of most of the painting genres plus the use of colour and his constant search for a structure to composition was critical in bringing the transition from the 19th century to 20th century abstract art. Artists like Giorgio Morandi, Georges Braque and Juan Gris were products of his great influence on art plus many other Cubists and Fauvists.
Paul Cezanne's greatest inspiration and influencer of his artistic journey was Camille Pissarro, his friend and teacher. His en plein air style of painting was a great influence in Cezanne's career as an Impressionist painter but he was more of a modern painter who found it difficult to fit in just one genre of painting. Other artists like Édouard Manet and Gustave Courbet also left a mark on his painting career.