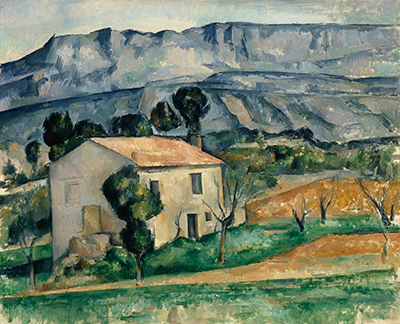 Buy Art Prints Now
from Amazon
* As an Amazon Associate, and partner with Google Adsense and Ezoic, I earn from qualifying purchases.
Paul Cezanne painted House in Provence between 1886 and 1890. At the time, Cezanne was living in Provence, France, an area known for its natural beauty, rolling hills, vineyards, and olive groves.
The inspiration for this particular scene was a view from the south side of the Mont Sainte-Victoire mountain range, a particular favorite area for the painter that has appeared in several of his works. The painting is typical of Cezanne's mature style, also known as his Constructive Period, which is characterized by a solidified, almost architectural style of painting. House in Provence has particularly short, broad brushstrokes, that make the house and mountain range look almost manmade. This effect is quite unusual for a landscape, especially one that falls into the impressionist movement. However, the soft, earthy colors of this painting still capture the rural area perfectly.
Cezanne's contemporaries, other impressionist painters he met in Paris, were interested primarily in the effects of light and reflected color in their art. However, unlike other impressionists, Cezanne was more interested in form and so his style focuses on the basic structures in the scene. In House in Provence, this particularly shines through in the outlines of the house, mountain range, and trees. The painting was created during the impressionist movement, but it is easy to see how Cezanne helped this develop into post-impressionism, the movement Cezanne is famous for fathering. The painting even includes elements that hint at the idea of Cubism when you look closely at the structure the brushstrokes have created.
As a young artist, Cezanne was heavily influenced by Pablo Picasso and Henri Matisse. Although, the influence of these two great French painters is not, perhaps, obvious at first glance. However, on closer inspection of House in Provence, you can see how the broad brushstrokes mimic their style when looking close up the painting can look more abstract, as the brushstroke makes structures in the painting appear to be made up of squares. It is thought that House in Provence was originally purchased by the French artist and art dealer, Ambroise Vollard. It was then sold again, first to German art collector Gottlieb Reber in 1918 and then to American art collector and First Lady of New York Marie Harriman in 1936. In 1945 it was sold again, this time to Caroline Marmon Fesler for the John Herron Art Institute, now called the Indianapolis Museum of Art.