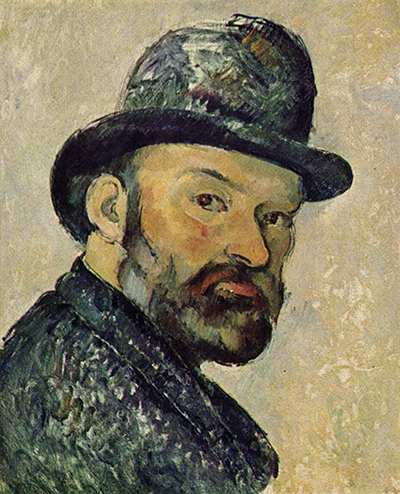 Buy Art Prints Now
from Amazon
* As an Amazon Associate, and partner with Google Adsense and Ezoic, I earn from qualifying purchases.
This interesting artwork is a self portrait by the French painter, Paul Cezanne. It is loosely dated at between 1883-1887 and during this period he created a good number of works in this specialist genre.
Most Cezanne self portraits would reveal his balding head but sometimes he would wear a variety of hats. In this case we find a dark bowler hat. It does help to make him a little younger in appearance, and Cezanne was someone who aged faster visually than his years would pass. We can track all of this through his self portraits, making them an excellent biographical tool, as well as offering good technical contributions to his oeuvre. This piece appears to be a study or incomplete oil painting, with areas of the canvas left uncovered with paint. The areas around the top of his hat and also across the shoulders are just in a single layer of paint, where as Cezanne was famed for his precision and subtle changes of tone which cannot be viewed here. Might he have left this piece unfinished? No follow up piece has been found that can claim this to have been a study, and so most likely he simply chose to leave this as is. His trademark nose structure and thick beard are on view here, with red cheeks and a strong gaze present as well.
In the background we find a lightly toned wall which brings a more positive aspect to this self portrait, as often in the 1880s the artist would use much darker features across his work in this genre. A closer examination across the wall suggests that even the background was not entirely finished and is a fairly roughly done flurry of paint that was intended to perhaps be developed and smoothed later on. The item is 44cm tall and 36cm in width, with its original French title being given as Cézanne au chapeau melon, esquisse. It is also one of the few Cezanne artworks to be found in Denmark, be it either a private or public collection.
This painting can be found at the Ny Carlsberg Glyptotek in Copenhagen, Denmark. They list is specifically as a study painting in oils and whilst it may not be one of their major highlights, its connection to Cezanne makes it extremely value and of interest to a wide ranging selection of art followers. His career impacted much of 20th century art and so it is impossible not to be aware of his work. Visitors to the gallery in Denmark may also be interested in seeing other items here such as Edgar Degas's Little Dancer of Fourteen Years, which was one of few sculptures created by the French master, as well as Édouard Manet's The Absinth Drinker and also Auguste Rodin's The Thinker. As you will gather, both painting and sculpture are particularly well served within the grounds of this important location.