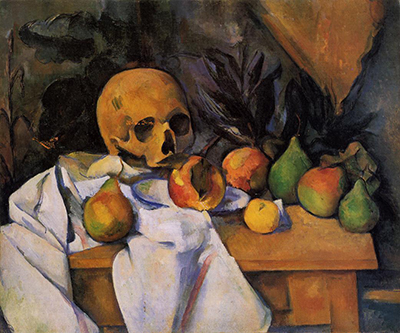 Buy Art Prints Now
from Amazon
* As an Amazon Associate, and partner with Google Adsense and Ezoic, I earn from qualifying purchases.
Paul Cezanne is one of the names that must surely be mentioned in every history of art. Active for much of the second half of the nineteenth century and working into the early years of the twentieth, Cezanne helped to move the art world from one era to another.
He was initially part of the Impressionist movement, but like all restless artists, moved on from convention to explore new territory. He became one of the leading lights of post-Impressionism, and in doing so helped to pave the way for new movements such as Cubism and Expressionism. Towards the end of his life Cezanne's work began to show a morbid streak, focusing on skulls and other images of death and darkness. Still Life with Skull is a classic example of this trend in his later work, and also a fine specimen of his general approach to art. The skull sits on a table, accompanied by a white sheet and an array of fruit.
The fruit looks good enough to eat, rendered in greens, reds and yellows that look not so much painted as projected in light directly onto the canvas. But the presence of the skull - which appears to be staring down at the symbols of life with a melancholy emptiness in its eye cavities - brings a touch of deathliness to the scene. In a distinctly ironic element, the yellowed hues of the skull blur into the yellow patches on the nearest pieces of fruit, as though life and death are blurring together, one influencing the other.
The surrounding scene is dark and inscrutable, with patches of grey, black and purple more suggesting a setting than describing it. Exactly where the scene takes place is left to the viewer's imagination: how the skull came to sit next to the fruit on the table is a story that any observer can imagine for themselves. What is more important is how the image makes the viewer feel; what symbolic connotations it conjures up; what emotions Cezanne has sealed in oils onto his canvas.
Cezanne has long been a popular subject for artistic prints, with reprints of his paintings decorating homes around the world. But it is impossible to celebrate Cezanne's work without acknowledging the confrontational aspects: his flirtation with the macabre and with death. For any art lover who wishes to honour Cezanne in all of his complexities, Still Life with Skull will make a perfect choice for a print to hang at home. It will certainly make a remarkable conversation piece, its dark solemnity and gravitas bringing an entirely new element to any house in which it is displayed.