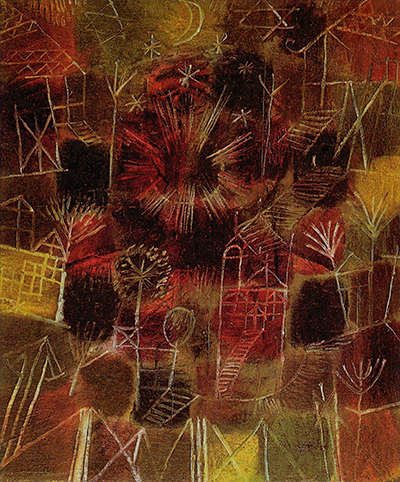 Buy Art Prints Now
from Amazon
* As an Amazon Associate, and partner with Google Adsense and Ezoic, I earn from qualifying purchases.
Cosmic Composition provides a vibrant city scape in mixed media
Cosmic Composition is an oil based painting that reflects the expressionist and surrealist style Paul Klee is so well known for. The picture features a sun like structure in the very centre, with objects such as crescent moons and stars surrounding it on the outside.
Klee uses ladders to link the objects in the picture and uses a dark, natural colour scheme to show the effect of space. In many ways it is a surreal depiction of the universe and of reality itself, and ties in with a lot of the work Klee was doing at the time.
Cosmic Composition was painted in 1919 when Klee was forty years old, and working for the art dealer Hanz Goltz who was giving Klee financial stability and a new level of exposure, both of which allowed Klee to enter a highly creative period.
At the time of painting Cosmic Composition Klee had recently returned from military service in WWI, and had begun to experiment with a romantic philosophical outlook that all of creation was a manifestation and reflection of the divine.
Cosmic Composition demonstrates this in many places, showing the fragility of creation and copious links between everything. More fundamental, however, is the small eye located at the back of the painting, which is initially a bit hard to spot.
The eye is a characteristic feature present in much of Klee's work from this era and is viewed by many to be a symbol of an all encompassing being watching over the world, again demonstrating a separation between physical reality and the ultimate reality.
Similarly the objects in Cosmic Composition are line structures drawn in two dimensions, again a symbol of how they are a watered down version of what is real, a reflection of something else rather than having intrinsic reality themselves. The shapes used to produce the rooftops remind us of Castle and Sun, The Way to the Citadel and Three Houses and a Bridge. Astrology and the cosmos were used frequently by Joan Miro, such as in Red Sun and Night.
Cosmic Composition is a deep, philosophical piece of artwork from which Klee is reflecting his own beliefs about the nature of the universe, and of reality itself.