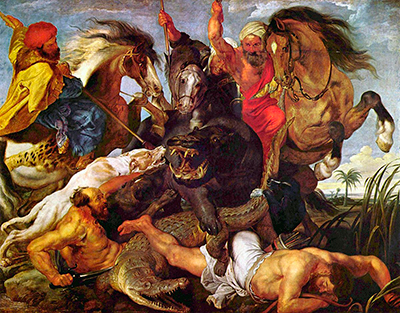 Buy Art Prints Now
from Amazon
* As an Amazon Associate, and partner with Google Adsense and Ezoic, I earn from qualifying purchases.
Follow the path taken by Rubens to become one of the most influential artists of the 17th century.
Peter Paul Rubens (June 28, 1577 to May 30, 1640), the celebrated Flemish Baroque painter, was born in Siegen, Westphalia. One of the most celebrated painters of all times, he established his reputation a leading light of Baroque painting, characterised by rich, deep colour, intense light, dark shadows, and overall great drama.
He was also a leading light of the counter-reformation painting, which manifested in several altarpieces, portraits, landscapes, and allegorical paintings.
Rubens father, Jan Rubens, was a lawyer in Antwerp. He was also a Calvinist, and the family had to flee Antwerp to Cologne, in 1568, owing to the prosecution of the Protestants during the time. Rubens returned to Antwerp in 1589 following the death of his father, and was raised as a Catholic. An understanding of this background is essential to make sense of the strong religious overtone in much of Ruben's work.
In Antwerp, Rubens received education in humanities, studying Latin, Greek, and classical literature. After his schooling, he became a messenger to Marguerite de Ligne, the Countess of Lalaing. Though Rubens did not like the job and set his mind on becoming an artist, the early experience of court life had a profound influence on his life and painting.
Rubens started his career as an artist in 1591, when he became an apprentice of Tobias Verhaeght. He went on to study under Otto van Veen and Adam van Noort, two leading painters of Antwerp at the time. Much of his training entailed making copies of earlier masterpieces, and his talent became evident at a very early age. His copies of Hans Holbein the Younger's "Woodcuts," and engravings of Marcantonio Raimondi stand out. Rubens completed his training in 1598 and joined the "Guild of St. Luke."
Rubens early career was based in Italy. In 1600, he made his first big trip, to Venice, and became awestruck seeing the paintings of Veronese, Titan, Tintoretto, and other masters. Rubens distinctive mature style, for which he became so renowned later on, was influenced mainly by the works of Titan he saw when in Venice. The colouring and compositions characteristic of Veronese and Tintoretto also had a big effect on Rubens.
Rubens soon gained the patronage of Vincenzo I, the duke of Gonzaga. With the duke's financial support, he travelled to Florence and Rome in 1601, to study classical art of the Greek and Romans. He was especially influenced by the Hellenistic sculpture "Laocoon and his Sons," the naturalistic paintings by Caravaggio, and also the artworks of Raphel, Leonardo da Vinci, and Michelangelo. His copy of Caravaggio's "Entombment of Christ," is especially noteworthy. His three altarpieces for the Church of Sta Croce in Gerusalemme (1601-1602) mark his first monumental work.
Rubens continued his travels, visiting Spain in 1603, as an embassy of the duke of Gonzaga, who remained his patron. He studied the extensive collections of Titan and Raphaelin the court of King Philip III. Spain was to be the first of his many trips that combined art with diplomacy.
Rubens nevertheless spent the next four years in Mantua, Genoa, and Rome. His stint in Genoa is especially noteworthy for several noteworthy portraits, such as the "Marchesa Brigida Spinola-Doria." He also commissioned a illustrative book on the city. In Rome, he commissioned the high altar of Santa Maria in Vallicella, the new church.
Antwerp Period (1609-1621)
Rubens return to Antwerp in 1609, following his mother's illness and death coincided with a boom phase in the city's history. Archudule Albert appointed him as his court painter. on October 3, 1609, Rubens married Isabella Brant, the daughter the famous humanist Jan Brant.
In 1610, Rubens purchased a new house and established an large studio, which is today preserved as the Rubenshuis museum. The design of the villa betrays Rubens distinctive Italian influences. "Rubens and His Wife in the Honeysuckle Arbour," on of Ruben's early masterpieces, was made during this time.
Rubens soon gathered around him a host of apprentices and students, the most famous of whom was Anthony van Dyck, who helped Ruben with several important commissions, and went on to become a leading Flemish portraitist in his own right. Ruben also collaborated frequently with the other notables of the city, especially Frans Snyders, the famous animal painter noted for his contribution of the eagle to Ruben's masterpiece "Prometheus Bound," and Jan Brueghel the Elder, a flower painter.
It is during this time Rubens commissioned many of his distinctive masterpieces. The "Raising of the Cross" (1610), a three-panelled piece for the Church of St. Walburga, was his first major project after returning from Italy. This bold and intense dramatic work, considered a masterpiece of Baroque religious art, lays down Rubens distinctive style. "The Raising of the Cross." and other altarpieces such as "The Descent from the Cross," (1611-1614) commissioned for the Cathedral of Our Lady established Rubens as the leading painter in all Flanders.
In 1620, Rubens started work on a series of thirty-nine ceiling paintings for the Jesuit church in Antwerp. This was his most extensive work ever, and drew all his powers and imagination. Unfortunately, these paintings have been lost to the world, having been destroyed by a fire in 1718.
Diplomatic Missions and International Fame (1621-1630)
Ruben's big break came in 1621 when Marie de Medici, the queen mother of France, commissioned him to paint two large allegorical series depicting the life and events of Henry IV, her late husband, with her. These paintings were for the Luxembourg Palace in Paris. The first series of the "Marie de Medici cycle," consisting of twenty-one large canvases was completed in 1625, and is now displayed in the Louvre. Ruben's talent is visible here not just in the brilliant execution of the artwork, but also his success in transforming an uncompromising subject, the dreary history of the queen, into a brilliant and spectacular topic of interest. Equally spectacular is his tapestry series "History of Constantine the Great," commissioned for King Louis XIII. These series, along with the even larger "Triumph of the Eucharist," commissioned for the Convent of the Descalzas Reales in Madrid, rank among Ruben's mot monumental works.
In the meantime, Rubens was entrusted with more diplomatic missions by the Spanish Hapsburg rulers, who controlled Antwerp. Rubens was active in his diplomatic career between 1627 and 1630, when he visited Spain, England, and North Netherlands frequently. His most significant diplomatic triumph was his role in bringing about peace between England and Spain, in the aftermath of the Spanish Armada ravaging English shores. For his efforts, Rubens was twice knighted. In 1624, King Philip IV of Spain conferred knighthood on him, and in 1630, King Charles I of England also made him a knight. In 1629, the Cambridge University conferred him with an honorary Masters degree in Arts.
Side-by-side with his diplomatic negotiations, Rubens executed several noteworthy works for Philip IV and other private patrons. His copy of "Fall of Man" (1628-29), executed in Madrid, is one of his most notable works. In London, he created the "Allegory of Peace and War" (1629,) which now adorns the National Gallery, London. His studio in Antwerp was heavily patronised by art collectors and noblemen from all over Europe. The Assumption of the Virgin Mary (1626,) commissioned for the Cathedral of Antwerp, is arguably his best works produced for the local community. With such masterpieces, Rubens international reputation grew, with collectors and the nobility flocking to his for his masterpieces. He had reached the pinnacle of his powers and fame.
The Last Decade (1630-1640)
Rubens remained in Antwerp for the most part during the final decade of his life. He was still busy with the ever increasing works for foreign patrons. His most noteworthy painting during this phase was the striking ceiling decorations made at the Banqueting House at Inigo Jones's Palace, in Whitehall.
In 1630, Rubens married the 16-year-old Helene Fourment. His first wife, Isabella, had died in 1626. It is Helene who inspired the several voluptuous figures that dominate Ruben's paintings in the 1930's, most notably "The Feast of Venus," "The Three Graces," and "The Judgment of Paris."
In 1635, Rubens took up the task of preparing temporary street decorations to welcome Cardinal Infante Ferdinand, the new governor of Netherlands. He created an amazing series of painted theatres and victorious arches in double quick time. Shortly afterwards, he started work on a cycle of mythological paintings, for "Torre de la Parada" near Madrid, King Philip IV's hunting lodge.
Soon afterwards, Rubens bought Chateau de Steen, an estate located on the outskirts of Antwerp, and spend much of his time there. The paintings of this period such as "Chateau de Steen with Hunter," "Farmers Returning from the Fields," and dominated by landscapes and reflect the intensely personal nature, so characteristic of Ruben's later works.
Towards the fag end of his life, Rubens developed severe arthritis, and had to give up painting. His self-portrait in Vienna is his last major work, and the most touching one, where he wears an air of calm and peace, amid his sufferings.
Rubens end came on May 30, 1640, when he died from gout. His body rests at "Saint Jacob's church in the city. He was survived by had eight children, three of whom he bore with with Isabella, and the other five he had with Helene.
A review of Rubens biography reveals him as a doyen of his age, a humanist, a scholar, an artist, and a diplomat, all rolled into one.