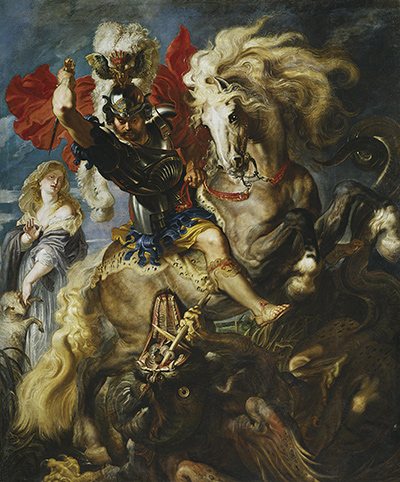 Buy Art Prints Now
from Amazon
* As an Amazon Associate, and partner with Google Adsense and Ezoic, I earn from qualifying purchases.
Paintings by Peter Paul Rubens enhance churches, cathedrals and museums all over the world. The Flemish artist was the most important painter of his day in Northern Europe.
He painted in the Baroque style, and his range of themes and subjects was huge. From the charm and simplicity of the portraits he produced of his children to the panoramic splendour of his larger works, his paintings breathe light and life. His ability to arrange large compositions, painting with clever and subtle touches of light and instilling them with a vibrant energy, ensured his fame and success across Europe.
Rubens trained in Antwerp but then spent a number of years travelling in Italy and when he returned to Antwerp he had developed a style that brought together the influence he had absorbed from the great Italian Renaissance artists with the naturalism of his Flemish home.
He became not just an artist but also a diplomat, charged with delicate political missions. King Philip IV of Spain sent him to England in search of a truce with King Charles I. He is perhaps most well-known for his vast paintings depicting biblical and mythical scenes, such as the altarpiece at the Cathedral of Our Lady, Antwerp; Descent from the Cross, a piece which may be considered as his greatest work, and The Judgement of Paris, which hangs in the National Gallery in London.
His portrayal of the biblical story; The Massacre of the Innocents, sold for a record £49.5 million in 2002. But his body of work is so much more than these most famous paintings would suggest. In the 1630s, he moved away from his activities and connections with the nobility of Europe to a quieter life at Het Steen; a manor house he bought not far from Antwerp.
His paintings there were of landscapes, with real and highly personal representations of his local countryside. Another of his works held by the National Gallery in London is the painting; An Autumn Landscape with a View of Het Steen in the Early Morning. Rubens has captured perfectly the light of an autumn morning. His portraiture was also renowned. His mastery of brush and paint really knew no bounds.
His portrait of himself, his second wife; Helena Fourment and one of their children hangs in the Metropolitan Museum, New York, and shows a polished, formal scene depicting family life. By contrast, the painting of his young daughter; Portrait of Clara Serena Rubens, owned by the Liechtenstein Princely Collections, strikes a most intimate and touching note. The legacy of Peter Paul Rubens is immense. His paintings have been studied by and have influenced generations of artists and they will, no doubt, continue to do so.