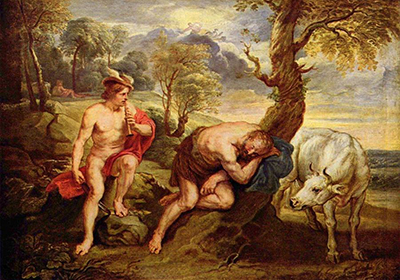 Buy Art Prints Now
from Amazon
* As an Amazon Associate, and partner with Google Adsense and Ezoic, I earn from qualifying purchases.
As a famous and influential artist of the Flemish Baroque Tradition, Sir Peter Paul Rubens attributes part of his fame to one of his most popular works, the Mercury and Argus.
The dimensions of the painting are a height of 63 cm (24.8 inches) and a width of 87.5 cm (34.4 inches). The medium of the painting is oil on panel. The painting depicts a man standing, holding a musical instrument in his left hand and a sword in his right hand. The man is seen striking another man who appears to be a shepherd, while he is seated and holding his cane.
There is a large, white, heifer with small horns next to them. Mercury and Argus is a painting whose purpose was to animate a mythological tale.
The painting depicts a scene from a Greek myth narrated in Ovid's Metamorphoses (I, 583 : IX, 687). The myth is excerpt of the life adventures of the famous Greek god, Zeus. The story suggests that Zeus fell in love with Io, an Argive princess, who was the priestess of his wife, Hera. In an attempt to put an end to her husband's infidelity, Hera converted Io into a heifer and called on Argus Ponoptes, the all-seeing shepherd, to watch the heifer.
When Zeus heard of this, he sent Mercury, the god's messenger, to kill Argus and recover Io, the heifer. Mercury then carried his sword and flute and went on a mission to find Argus. After finding him, Mercury puts Argus to sleep by playing him some music on the flute. He then strikes the sleeping Argus to death with the sword, and returns the heifer to Zeus.
The compelling piece of art was created between 1635 and 1638. The composition of the art is based on Italian Renaissance prints. The diagonals and the scorzi of the three figures in the painting display the artist's Baroque style. Mercury and Argus by Peter Paul Rubens was painted on the Torre de la Parada, a small royal palace near Madrid, and was listed there in 1701. Currently, the painting is located in Gemaldegalerie Alte Meister, Dresden, Germany.
Peter Paul Rubens also created another work on the same theme and the same title, but on canvas, in the same period of 1636-1638. This particular collection, however, is located in the Prado Museum of Madrid.