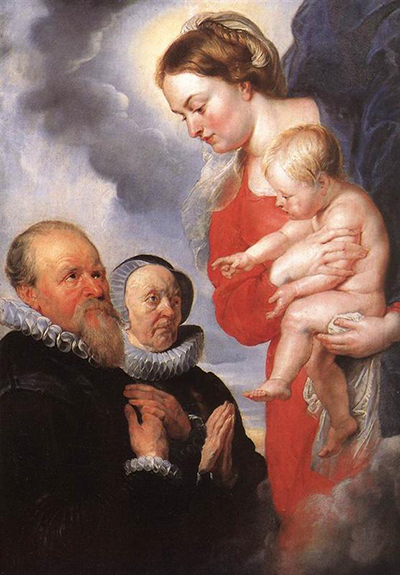 Buy Art Prints Now
from Amazon
* As an Amazon Associate, and partner with Google Adsense and Ezoic, I earn from qualifying purchases.
The Virgin and Child with the Donors Alexandre Goubeu and his Wife Anne Antoni by Sir Peter Paul Rubens was commissioned in 1604 and finished between 1608 and 1621.
It is currently held at the Musee des Beaux-Arts Tours after the French seized the painting in 1803. Anne Antheunis requested the painting shortly after the death of her husband. She wanted the piece as an ex voto at their shared memorial monument, to be held at the cathedral's masons' chapel. At the time it was commissioned, Rubens was in Italy.
He began work when he returned to Flanders in 1608 and completed the piece by the time of Anne's death in 1621.
Between 14th and 16th century, loving Christian art depictions of the Virgin Mary beside her son were in huge demand. The term Madonna translates as "my lady" in Italian. It refers to a female of high social standing, but became synonymous with paintings featuring the baby Jesus and his mother Mary. Small versions are intended for personal use and larger ones works intended for public churches, often commissioned by a family or community, are seen as a display of their Christian devotion or financial wealth.
The painting shows Mary, soft-bodied, white skinned with rosy cheeks, wearing a simple long-sleeved, red dress. Her brown hair is platted and tied up at the back of her head. She is gently cradling her blonde-haired son, who appears to be reaching out, as they look down upon Alexandre Goubeu and his wife. The pair are stood beneath, hands clasped in prayer, gazing back into Mary's eyes.
They are wearing sombre expressions and are dressed in all black garments with white ruffs around their necks and wrists. The glowing sun behind Mary's head is breaking through a ring of dark clouds in the sky. There are no signs of the civilisation or wildlife in the painting, instead the scene is set entirely in the sky. Even Mary appears to be standing on a cushion of cloud.
Created in the Southern Netherlands under Spanish control, the painting is traditional Flemish Baroque in which the creator, Sir Peter Paul Rubens, is one of the most esteemed artist. His pieces are characterised by Christian and classical history references. As in this painting, Rubens style emphasised colour, sensuality and movement. The women portrayed in his work are regularly depicted in full-figure, which appealed to his mostly male audience of clients.