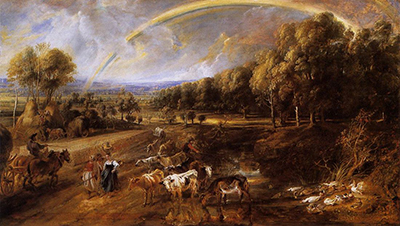 Buy Art Prints Now
from Amazon
* As an Amazon Associate, and partner with Google Adsense and Ezoic, I earn from qualifying purchases.
The Rainbow Landscape, circa 1636, is one of the finest landscape paintings produced by Flemish master, Peter Paul Rubens
This oil on oak panel provides a clue as to the future direction of landscape painting, with clear similarities to the later work of Romanticists like JMW Turner and John Constable.
The original artwork can now be found in the Wallace Collection in London, UK. This institution may not have the profile of the Tate Britain, the National Gallery or the Royal Academy but it still owns an exceptional selection of art from the Renaissance, Baroque and Romanticist periods. Beyond oil paintings and frescos, there is also sculpture, antique weaponry and some beautiful silverware.
This particular view was taken from the artist's luxurious manor house, Het Steen, which sits roughly halfway between the cities of Brussels and Antwerp. These two locations were significant artistically during Rubens' lifetime and the position of his home made it easy to continue his successful art sales sideline.
Despite moving to Het Steen for his retirement there are still several artworks that he produced here, see also A View of Het Steen in the Early Morning. This countryside location appears to have given an ageing Rubens just the peace and quiet that he needed in order to enjoy his later years. The region captured in both is known as Brabant and inspired the artist to create these paintings purely for his own enjoyment, with them staying in his ownership until his death.