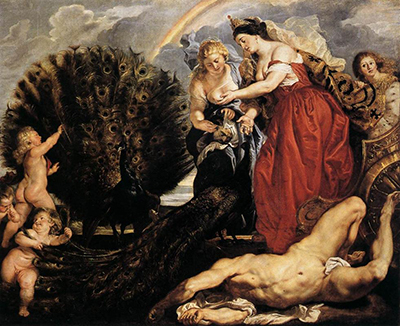 Buy Art Prints Now
from Amazon
* As an Amazon Associate, and partner with Google Adsense and Ezoic, I earn from qualifying purchases.
Painted by Peter Paul Rubens in 1610 and currently residing in the Wallraf-Richartz-Museum, Cologne, "Juno and Argus" is an oil-on-canvas painting that manifests a Roman mythology story.
The story tells of how Juno's jealousy and wrath over her husband's (Jupiter) affair with the nymph lo eventually led to the death of Argus, a multiple-eyed giant commissioned by Juno to imprison lo and keep her away from Jupiter.
With "Juno and Argus", Rubens represents a bloody thirsty scene of the story in which Juno honors the dead Argus by decorating the plumage of her dedicated birds, the Peacocks, with Argus' multiple glowing eyes. The painting features the lifeless decapitated body of Argus in the foreground, Juno together with two other women, two peacocks, and three naked children at the center and a bright blue sky with a half-rainbow in the background.
The three naked children, who are playing with the peacocks' feathers, can be interpreted as Juno's children. One of the peacocks is large with magnificent plumage being decorated with Argus' eyes while the other one is smaller with its plumage already decorated.
Juno is clothed in a bright deep red dress that immediately calls attention to her. She has a crown on her head and a goat cloak covers her back. The four fingers on her right hand hold Argus' eyes that she decorates the large peacock with and her left hand is receiving the other eyes from the woman next to her, who is gently holding Argus' decapitated head on her laps. The other woman is behind Juno and is eavesdropping in the whole scene.
Mostly known for his Religious Baroque art during the counter-reformation period, Rubens does not shy away in his naturalistic way of representing this scene. He uses bold brown color to paint the magnificence of the peacocks, deep red color to paint Juno's royal regal dress, intense lighting to present the whole scene, and greatly dramatized and gruesome pictures to present Argus' decapitated body and head.
Also, as a student of classical Roman and Greek mythology, it is clear that Rubens had a clear understanding of it, especially from the way he painted Juno in this particular painting. Wife of the unfaithful Jupiter, Juno is often portrayed as an evil, vengeful and wrathful Queen. Rubens chooses to portray a different side of Juno in his painted narration of the story.
He still portrays her as a queen, regal in an eye-catching deep red dress, a gold crown, a gold clock, and a gold earring - a sight to behold. But beneath it all, Rubens shows the compassionate and caring side of the evil queen by manifesting the gentle way she holds Argus' eyes on her hands and the solemnity covering her face as she mourns and remembers her dead loyal servant. Though it can be argued that this particular story is what manifests this side of Juno, Rubens still manages to clearly portray it in his painting.