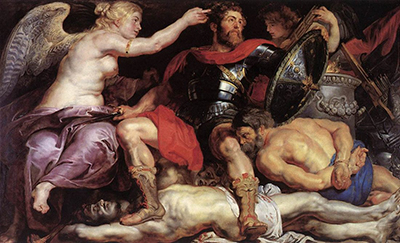 Buy Art Prints Now
from Amazon
* As an Amazon Associate, and partner with Google Adsense and Ezoic, I earn from qualifying purchases.
This powerful scene is instantly recognisable as having come from the hand of Rubens, and features many of the signature elements that would make his work so highly respected. This typically huge canvas features a plethora of activity and emotion.
We find here a common theme within historical art, which is the triumph of victory, where the victor is painted in a picture of bravery, strength and honour. The losers would often be strewn about their feet in desolation and desparation, and that can be found here. Rubens loved to create dramatic, energetic compositions and such themes were ideally suited to that. In many other cases the victor would be raised onto a horse, symbolically placed above everyone else to underline their superiority, or in other cases to be physically stood on their beaten enemies. The reality of any battle was almost irrelevant when artists attempted to create the most flattering and dramatic depiction possible.
There would also often be the connection between victor and a divine power, as if to suggest that their strength goes even beyond our world. Here we find the goddess of victory crowning the heavily armoured soldier. Around them is a display of the effects of barbarism, with no mercy shown to those who lost this deadly battle. One of the artist's greatest strengths was his use of colour which really lifted these dramatic scenes off the canvas and still provide great enjoyment today, all these many centuries later.
This artwork can be found in the highly prestigious Old Masters Collection in Kessel, Germany, alongside a number of other paintings from Rubens as well as a number of other highly significant artists from the Renaissance and Baroque movements. You will also come across, for example, the likes of Poussin, Rembrandt, Altdorfer and Van Dyck here, and a number of other venues are also to be found in and around the city of Kessel in this culturally significant part of the country. The gallery holds over 800 paintings within this particular collection, making it an excellent and comprehensive study of some of the finest European art over a period of several centuries, and taking in both Northern and Southern European regions.