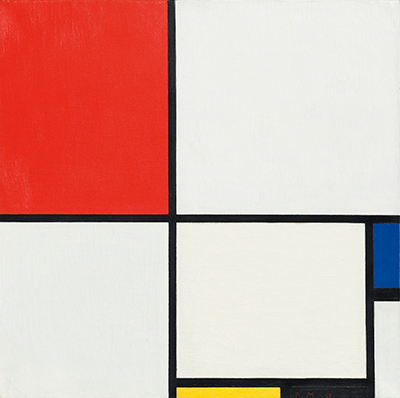 Buy Art Prints Now
from Amazon
* As an Amazon Associate, and partner with Google Adsense and Ezoic, I earn from qualifying purchases.
Composition No. III, with Red, Blue, Yellow, and Black was produced by Piet Mondrian in 1929. It was one of many similar paintings produced by the artist over a period of around two years which all feature similar tones in this abstract format.
Whilst many are more familiar with Composition with Red, Blue and Yellow which came about a year later, this similar piece shot to fame fairly recently after receiving an extraordinary price at a major art auction. Christie's held a high profile auction in 2016 titled Impressionist and Modern Evening Sale Including Property from the John C. Whitehead Collection and this piece was entered into it with a guide price of $15,000,000 - $25,000,000.
Ultimately, it would surpass all expectations and was eventually sold for an incredible price of $50,565,000, making it instantly one of the most expensive Piet Mondrian artworks and ranking amongst the highest prices paid for any artwork in history.
It is undoubtably this abstract style which has become the most famous of all the different styles used by Mondrian across his career and contemporary art also seems to achieve particularly high prices in the art market at the moment. The format of this work needs no real introduction for followers of Mondrian, with it bearing strong similarities with many paintings that he released between the years 1929-1930.
The painting itself is around 50cm in width and height, though there were then two frames added behind the work. There is an initial set of white wood which borders the piece, adding around 10cm in width and height and this would have been added by Mondrian himself at the time of completing the piece.
There is then a much wider, flatter wooden frame which protrudes much further out than that and is used to protect the artist's original work. Many often believe that flat colours used within these abstract paintings will not hold any sort of variation or detail but actually when looking up close at the likes of Composition No. III, with Red, Blue, Yellow, and Black you will actually notice individual brushstrokes, dabs of paint and also slight variations in tone as a result in natural differences between the thickness and style of application of the oils themselves. This therefore makes seeing the items in person far more interesting than merely viewing small pictures of them in the printed or digital media.
More about the Painting
Immediately upon completion the artwork was put out on display at the Stedelijk Museum in Amsterdam. It would feature in two specific exhbitions, namely the Expositions Sélectes d'Art Contemporain followed by the Architectuur Schilderwerk Beeldhouwwerk, before then being transferred to The Hague for several months more. In the years since it has also featured elsewhere in displays across Europe and the US, including Washington D.C. and New York City. The artist we do know would sign the piece in the bottom right corner, with his intials alongside '29', marking the year.
He also added further information on the frame which was later added in order to protect the piece as it travelled around several galleries in its early life. It was completed using oils only, as was the way for this artist throughout his abstract period although he did try alternatives such as watercolour during the earlier parts of his career. As mentioned elsewhere, there were many related artworks to Composition No. III, with Red, Blue, Yellow, and Black but this particular one was the first released item of twenty nine in total, all following a similar process but just with slight alterations each time in colour and composition.
Related Artworks by Piet Mondrian
As mentioned elsewhere, Composition No. III, with Red, Blue, Yellow, and Black is just one of a number of similar artworks which Mondrian produced over the space of just a few years. You will find within this body of work a consistency in the colours used and also the density and style of the forms involved. Then compare them to other periods in which the shapes might be closer together, more or less frequent and also the colours might change considerably.
We have included some other similar artworks below to underline how consistent he was between the period of 1929-1930, with some alternative arrangements from that successful period. Elsewhere in the site you will find all of the other styles that he covered also included as we attempt to make this site as comprehensive of his achievements as possible. It is the approach found within this page which is how most now remember this artist, though efforts have been made to remind us of the variety of his career by a number of galleries in Europe through exhibitions and also several new publications on his life.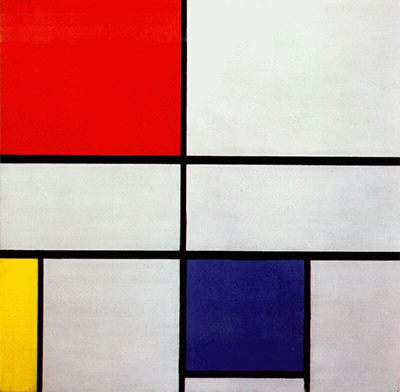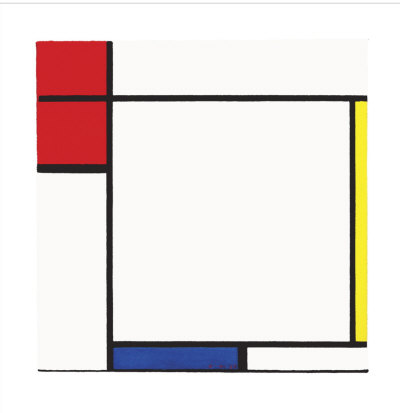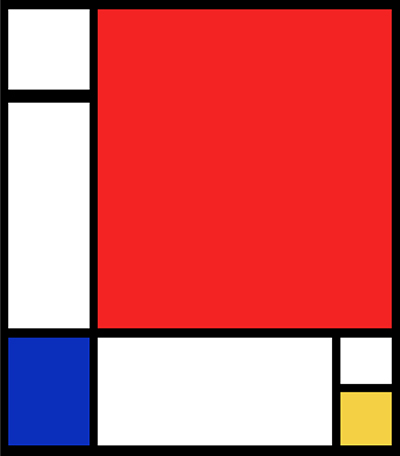 Large Image of Composition No. III, with Red, Blue, Yellow, and Black
In order to understand better the detail used by Mondrian within the painting, we have included a larger, more detailed version of it below. The final piece also has two different frames around it, but this photograph just focuses on the detail on the painting itself. See the precision with which the artist worked and also the brilliance of the colours applied. There is no real alternative but to see some of these paintings up close, as that is the only real way on truly appreciating the achievement of the artist within this body of work which lasted for several years and is probably regarded as the peak of his career. His fame mainly derives from this period, even though he achieved so much elsewhere, with a variety of portraits, landscapes and other genres covered at different points. He also produced a good amount of Expressionist artworks, and other items that were perhaps hard to precisely categorise as Mondrian continued to express himself and experiment just as much as he could.