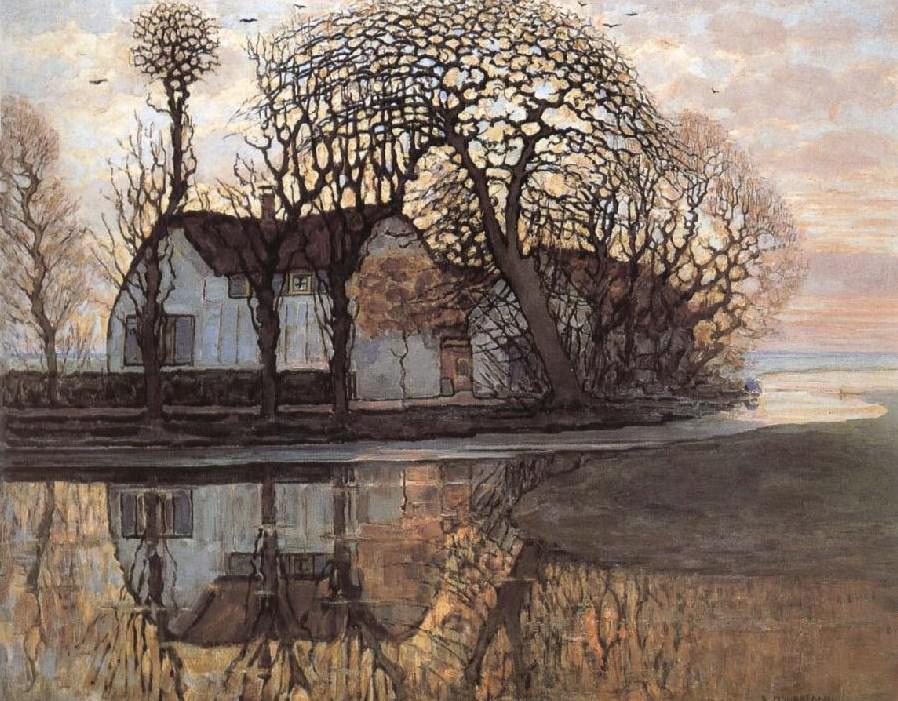 Buy Art Prints Now
from Amazon
* As an Amazon Associate, and partner with Google Adsense and Ezoic, I earn from qualifying purchases.
Farm Near Duivendrecht
Piet Mondrian developed a deep interest in art in 1908. The following years saw him grow with great rapidity various artistic styles of paintings. He spent about 10 years using glowing and pure colors to express his artwork. In his early ages he portrays an intensity of expression and vivid colors. This is especially true when you refer to his painting titled Farm Near Duivendrecht.
The painting is simply about a farmhouse at twilight hour, strong lines that dominate the scene of painting represent this with great ease. There is presence of a diminishing light at the end of the scene, this creates a vibrant orange halo. It goes further to highlight patterns made by the branches. The farm painted is also a true painting of a farm house near Duivendrecht, this is a small village close to Amsterdam. Piet also made several paints of the surrounding trees and the building itself.
The scene is splendid since it captures the attractiveness of strays of light, reflections and shadows. The painting shows a hint in Mondrian's interest in line structure with paintings. The diminishing light at the end of the horizon creates a sweet halo of vibrant orange color which interlocks with a web of bare trees. It highlights the unique pattern in the branches and showcases the artist's highly level of art. This later developed fully to abstract paintings.
While Mondrian was famous for paintings that were nonrepresentational, he had his basic vision built on landscape. His early works show that he had a great inspiration from the topography of his native home in Holland. He returned to similar subjects even after developing an abstract style of painting in 1911. Mondrian is known to have sketched the farm house a time around 1905. Close to fifty percent of his paintings and drawings were of the farm. He later advanced these images during the World War I.