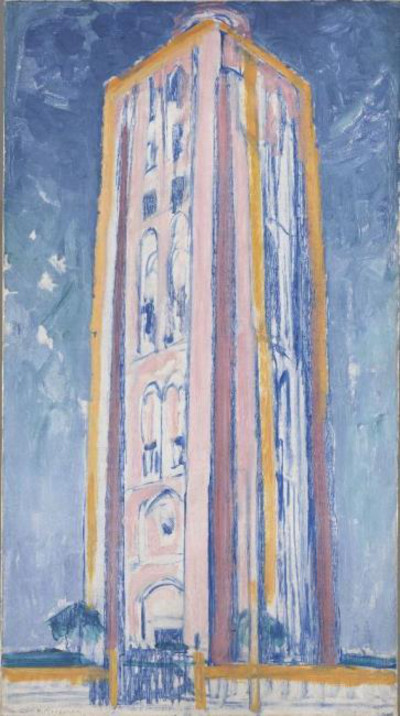 Buy Art Prints Now
from Amazon
* As an Amazon Associate, and partner with Google Adsense and Ezoic, I earn from qualifying purchases.
Mondrian produced many landscape paintings in the earlier part of his career and would travel around the Netherlands looking for different sources of inspiration. Something that really inspired him was the unique architecture of a lighthouse found in Westkapelle and he would paint it several times over a period of several years.
Lighthouse at Westkapelle in Orange, Pink, Purple and Blue, circa 1910 is perhaps the most defined of all the paintings that Mondrian produced of this building. He had already visited in the previous year and in this example he wanted to show off a little more of the detail of this interesting piece of architecture which stood on its own within a quiet part of the Dutch landscape. See the lines of blue which define the different angles of the construction, with Mondrian then adding tones of pink to signify light balance and shadow. There are also parts of the facade included too, where as previously he would simply add flat colour for the different exterior walls of the lighthouse. We can see arched windows leading all the way up to the top and also an entrance between several trees. There is also a gate and wall which cut across the very bottom of the composition, allowing us to learn much more about this location than we did from his previous pieces.
Mondrian loved the quiet landscapes of the Netherlands with their flat perspectives and unique atmosphere. He felt calm and relaxed, and was able to find many suitable locations for his work. There would be something magical about this lighthouse that intrigued him and ultimately inspired a good number of paintings over several summers. Perhaps he was thinking of Monet when he continued to address the same item from a variety of angles and in different lighting conditions (see Haystacks and Rouen Cathedral). Colours was becoming a key part of his style and as he reduced his detail and became more abstract, so the use of colour became more and more important. Ultimately, he would eventually throw himself entirely into the most abstract of styles, but on the way he would create stunning expressive work such as this, prior to him leaving his native country.
Somewhere like the Dutch province of Zeeland, which is where you will find the city of Westkapelle, offers an artist real tranquility. He would be able to study items over time without being bothered or distracted. He returned to see the lighthouse and capture it within different conditions of light and climate and could just focus on his work by himself. The same was done with some of his seascapes where a remote spot would leave him in solitude for many hours, allowing him to spot even the smallest of changes over time. He returned several summers in a row and grew fond of the region before later moving over to France and eventually becoming entirely engulfed in the world of abstract art.