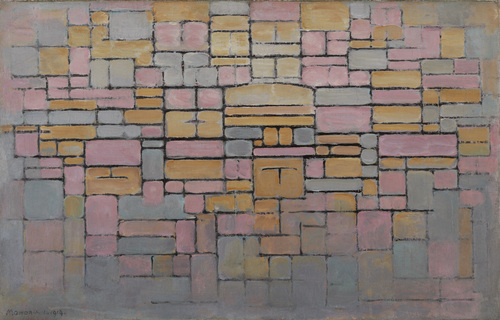 Buy Art Prints Now
from Amazon
* As an Amazon Associate, and partner with Google Adsense and Ezoic, I earn from qualifying purchases.
Tableau No 2 Composition No V
This oil on canvas was painted by Mondrian in 1914, towards the end of his two year stint in Paris.
His Paris years were to play a significant role in the shaping of Mondrian's artistic identity. It was here that he became acquainted with the avant garde art scene, inspiring him to move away from the pastoral landscapes he'd been painting back home in The Netherlands, and to take on the influence of the cubist style that was in full swing in cosmopolitan Europe. Braque and Picasso are two painters who he was influenced by, and who he almost certainly rubbed shoulders with at some point during his time in France.
Tableau No 2 Composition No V was displayed alongside works by Picasso and Braque in the June 1914 exhibition at the Walrecht gallery in The Hague. However, in spite of his proximity to cubist painters, and in spite of the influence cubism had on him, works such as this one are the nearest Mondrian ever came to becoming a fully fledged cubist painter himself. As we now know, Mondrian was destined to forge his own path in the art world.
War broke out whilst Mondrian was still in The Hague for the exhibition. He was therefore stuck in his home country for the next few years, and it was then that he met Van der Leck, who had a tremendous influence on Mondrian's eventual exclusive use of primary colours.
Certain aspects of Tableau No 2 Composition No V seem to foreshadow the movement that Mondrian was to become a leading force behind. The bold black lines, and the coloured squares, are obvious precursors to the geometric abstraction in Mondrian's later paintings for which he is now most renowned.