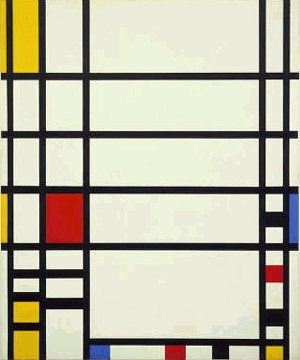 Buy Art Prints Now
from Amazon
* As an Amazon Associate, and partner with Google Adsense and Ezoic, I earn from qualifying purchases.
Trafalgar Square
Piet Mondrian's painting entitled, "Trafalgar Square" consists solely of squares, rectangles, as well as bold black lines and colors. It is, without doubt, classified as abstract art. Mondrian did, however, not begin his painting career as an abstract painter. Born in the Netherlands in 1872, when Mondrian began painting, it was as an impressionist, which was in vogue at that time.
Influenced by Van Gogh, it did not take him long to progress to Post Impressionism work and the emotive use of color. As time went on, Mondrian also followed some of the techniques and styles of Picasso and Braque.
Eventually Mondrian became less influenced by other painters and began to explore nature in his own way, which was the beginning of his forming a distinctive style of his own. He began to simplify and reduce the shapes and colors that he saw. This process continued until he wasn't actually painting nature anymore. Instead, he was beginning to evolve into an abstract painter.
Over time his abstract paintings also changed. Gradually his paintings became devoid of virtually everything that was not a line, a square or a rectangle. The use of color became quite pronounced, as did his thick black lines. Eventually, in 1939 to 1943 Mondrian painted Trafalgar Square in London. It has a clean background with bold lines, shapes and colors.
It was done by oil on canvas. Its dimensions are 57 1/4 x 47 1/4" (145.2 x 120 cm). This painting was the first one named after places in cities that gave Mondrian refuge after moving from Paris to London to avoid a possible German invasion.
Although Mondrian never married and lived in humble surroundings, he was not a recluse. He enjoyed female company and the periodic party. He continued to paint until his death at the age of 71.