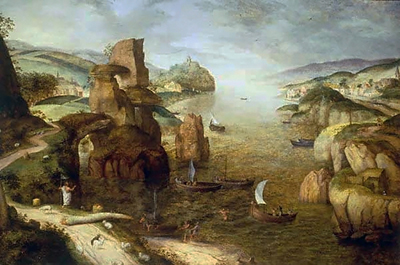 Buy Art Prints Now
from Amazon
* As an Amazon Associate, and partner with Google Adsense and Ezoic, I earn from qualifying purchases.
Landscape with Christ and the Apostles at the Sea of Tiberias is a lesser known painting from Pieter Bruegel the Elder, who himself was one of main figures in the Northern Renaissance.
The scene features a tributary running through a series of rolling hills. There are a number of small boats making their way through this picturesque setting as well a few figures on the shore. In the far distance a number of buildings can be seen, but this painting is predominantly focused on the natural landscape of this region. Bruegel would typically capture humanity and nature together in this way, with more famous examples including Hunters in the Snow and Tower of Babel. In truth, that was his signature style, and so you will see many more interpretations of it throughout his career. It is these small characters within his paintings that make Bruegel's style quite so popular, and the can be said for the related artist, Hieronymus Bosch.
The original title of this painting was Christus und die Apostel am See Genezareth and it now resides in a private collection, which perhaps explains why so little is known about it as compared to many of the artist's other paintings. Religious scenes would prove inspirational to many great names in both the Northern and Italian Renaissance, with Landscape with Christ and the Apostles at the Sea of Tiberias itself being dated at 1553. It is around a metre wide, which is typical of this artist's work but actually fairly small as compared to some of the other notable names working around this time. Huge canvases would often be used, where those in receipt of the paintings would have sufficiently large properties in which to hang them. Of course, these would often be places of worship, hence the frequent use of Christian themes.
It is hard to be entirely sure of the activities of the figures in the foreground without seeing the painting in person, but it is likely to reflect Christian scripture which explains how Peter, Thomas, Nathaniel (Bartholomew), the sons of Zebedee, James and John, and two other of his disciples were all fishing in the sea of Tiberias. They did not catch anything after fishing there all night, but then when instructed by Jesus Christ on where to fish, they would then be much more successful. This would lead to their belief in the Lord, as further evidence of his divine powers. The qualities of Bruegel as an artist meant that he could produce a stunning landscape painting for some, whilst delivering a deeper meaning for those inclined.