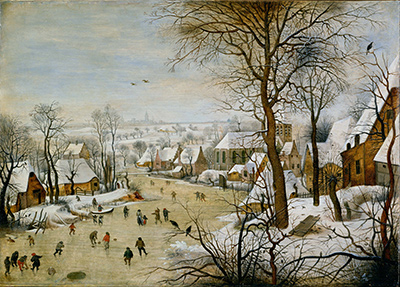 Buy Art Prints Now
from Amazon
* As an Amazon Associate, and partner with Google Adsense and Ezoic, I earn from qualifying purchases.
Winter landscape with a bird trap, indicated a land full of snow, a happy village and a trapped bird. At the time in history many artists shunned away from realistic art.
They dwelt on fantasy of nature. Bruegel the younger was a landscape painter, he enjoyed reality painting.
It brought about a realistic feeling to his work. No one fancied winter because of the cold that came with it, winter landscape with a bird trap displayed both a beautiful and harsh world.
Most artists did not fancy such paintings; this was because of the fear, and the cold that came along with winter.
The art work portrayed the harsh effects of winter and the beauty and calmness in the landscape drawn.
Bruegel the elder drew common peasants; he captured the basic lifestyle and their motivation.
His work dwelt on reality, a similarity between him and his son's work. He relied on his vision on life to recreate a theme that perfectly fits the context.
Their arts had deeper meaning from what one would see. Artistic skills were portrayed in the winter landscape with a bird trap; he was able to display both beauty and darkness – the amazing scenery in the land that was covered in snow.
In accordance to the context, the devout person represented a pilgrim who was passing through life that was full of temptations and danger.
He had to avoid this kind of obstacles in order to attain salvation. The bird traps symbolised the devil's baits meant for the souls that were careless; the bird had long been used to show soul.
Skating showed the uncertainty of life, and when the two meet, they vulnerability to danger is observable. Pieter Bruegel was able to present is vision of the world in a masterly skill.