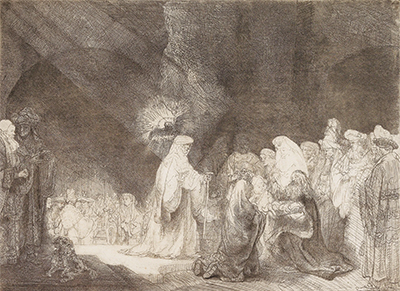 Buy Art Prints Now
from Amazon
* As an Amazon Associate, and partner with Google Adsense and Ezoic, I earn from qualifying purchases.
The Presentation in the Temple (Simeon's Hymn of Praise) was a complex etching completed by Rembrandt van Rijn in around 1640, by which time the artist had been using this medium for well over a decade.
This is an entirely accomplished piece with considerable detail in every corner of the artwork. Rembrandt may well have adapted the piece over time, regularly releasing prints of it as a means to make money but also to test the existing status of the design. He would be able to browse every last detail and then make tweaks to the etching itself which would then carry across into all future series of prints. He grew to love this art medium and it was critical to him achieving success within his own lifetime, even though today most still consider him to be a painter, first and foremost. In truth, his natural abilities were correctly applied to a good number of alternative mediums, and he was able to retain his enthusiasm by taking on different challenges across his career.
The larger photograph below offers great detail on this impressive artwork and several prints of it have recently come up for auction. Always be careful to check upon the authenticity of these items when bidding online, as some sellers are more trustworthy than others. You will often find many other prints from his etchings for sale from time to time and these can be picked up normally for around just a few thousand dollars, which will interest many who have more limited budgets than the major art collectors out there. This piece is particularly impressive, with a huge number of figures to be found in the foreground, with a further arched interior placed behind.
The prints of this artwork that we have found in various collections tend to be around 30cm wide by 20cm tall, which is entirely consistent with most publishers of this period. Rembrandt took advice from many local printmakers when he first started working with this medium and understood that different challenges would come his way than when working with paintings. He was already a highly accomplished draughtsman and so those talents were suitable to laying out his designs for the purpose of adding acid to the etching and then releasing series of prints from that. The process is arduous but many still like to work in this way today. Rembrandt has inspired many in that regard, but there were also other famous names involved in printmaking, such as Nuremburg's Albrecht Durer.