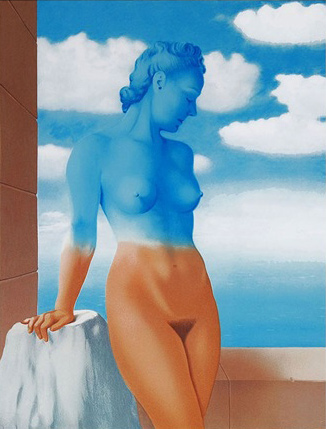 Buy Art Prints Now
from Amazon
* As an Amazon Associate, and partner with Google Adsense and Ezoic, I earn from qualifying purchases.
Black Magic is an art work created in 1934 by the Belgian artist Rene Magritte. This work also has a French title, 'La magie noir' (which also means 'black magic'). Magritte is well known as a surrealist painter, and Black Magic is a great example of Surrealism in general and Magritte's specific brand of surrealism in particular.
What makes Black Magic stand out from Magritte's other works, however, is its medium. Overwhelmingly, Magritte preferred to work in oils and many of his most famous works (such as 'The Son of Man') are executed using oil on canvas. Black Magic, however, is a lithograph and this makes it a very rare and interesting addition to Magritte's oeuvre.
Lithography is a fascinating medium. In order to create a lithograph, the artist must treat their paper with a special coating that will repel ink except in those places where they desire ink to be absorbed in order to create an image. The paper is then printed with ink - sometimes several times with several different colours of ink - and the final artwork is made. Lithography was invented in 1796, 102 years before the birth of Magritte himself in 1898. By the time that Magritte used a lithograph to create Black Magic, then, it was an established medium. One advantage of lithography is that the printing press can be used to create several copies of the same art work - all that the artist needs to do is to apply the ink afresh every time. Magritte, indeed, created several copies of Black Magic, and he numbered and signed them in graphite in the corners to mark their position in the overall series of lithographs.
Black Magic depicts a nude woman in a sparse yet imaginative setting. What is instantly noticeable about this work is that whilst the woman's lower half is flesh coloured, her upper half is blue and seemingly translucent as if she is becoming one with the sky. One might ask, to what does the title Black Magic refer? It may refer to the woman's transformation, or to the power of her beauty. Alternatively, it could refer to the process of lithography itself, which uses simple materials to create a surreal and dreamlike work of art. The answer may come from delving even deeper into the context of this art work.
Just before he created Black Magic, Magritte had participated in an exhibition (in 1934) in Brussels entitled Le nu dans l'art vivant, which is French for 'the nude in living art'. It is clear that this exhibition, with its focus on the nude form, gave Magritte food for thought for when he came to create the nude woman who is the central figure in Black Magic. Magritte's initial model for this work of art was his wife, Georgette. And, when asked about the title, he gave his own explanation: 'it is an act of black magic to turn the flesh of a woman into sky'.With this comment about black magic and the transformative powers of art, Magritte was evoking a theme that was central to his Surrealism: this is the theme of change and metamorphosis.
Black Magic was painted between the first and second world wars, and the second world war was by this time very much beginning in Belgium. At this time, Magritte very deliberately turned to naive, dreamlike, uplifting images in order (as he himself said) to try and counteract the harshness of the reality of the world around him. As he cultivated this positive style amidst the negativity of the world, one of Magritte's key influences was the French painter Pierre Auguste Renoir. Renoir's nudes, softly painted in bright and dreamy hues, are clearly in the background of Black Magic.