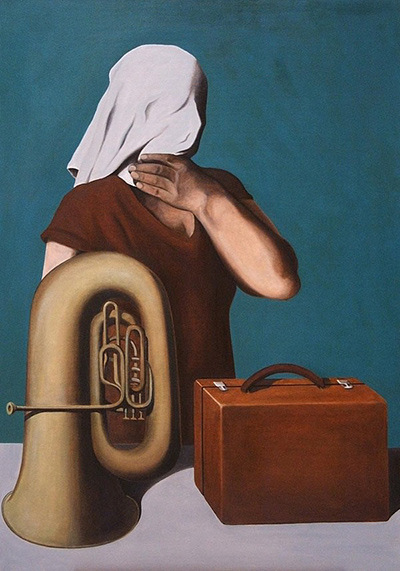 Buy Art Prints Now
from Amazon
* As an Amazon Associate, and partner with Google Adsense and Ezoic, I earn from qualifying purchases.
The Central Story was painted in 1927 by Renee Magritte as an oil on canvas. It has been suggested that this is a very personal piece of art and represents the death of his mother.
Magritte's mother, Regina, committed suicide on the 12th March 1912 by throwing herself in the river Sambre. Magritte was just 14 at the time and though he rarely mentioned his mother or the suicide afterwards, many experts believe that his feelings about this traumatic event have been expressed through his art.
The Central Story is a striking piece. Just three items have been carefully positioned to form a triangle. A tuba, a closed suitcase and a woman. The viewer is drawn to the woman who has a cloth covering her face. She appears to be holding the cloth in position but at the same time almost strangling herself as she does.
Some experts state that Magritte had seen his mother's body when it was pulled out of the river and had seen her naked body exposed because the nightdress had shifted up and clung to her wet face. Further investigations seem to indicate that Magritte did not see her body at all but he might have imagined what she looked like. The use of a cloth to cover faces appears again in other works, like the painting titled "The Lovers", which Magritte painted the following year.
It has been suggested that the tuba represents the cold and lifeless female form while the suitcase shows a departure. What is also fascinating is the way that Magritte forces the viewer to search for more clues and meanings in his work. The title itself; The Central Story, is ambiguous and mysterious. Could it have significant meaning? Similarly the strange indents on the hand and forearm, suggestive of shapes, beg for more attention.
The coloration of the woman's neck seems mottled too, possibly as Magritte might have imagined his mother's body to have appeared. In stark contrast to many of his images which feature blue skies and clouds, the colours in this composition are duller overall with an emphasis on shades of brown. As with all Magritte's art, The Central Story demands attention while the viewer tries to understand the message or mystery behind the picture.